Dig, if you will, a brawler.
There's going to be some very, very obvious comparisons here, which I am going to tiptoe around if only because they are entirely redundant. Let's face it, dear reader. You don't play a brawler game because you want out of this world storytelling or gameplay that leaves Smash in the dust. You just don't. That's not how it works.
You play a brawler because you and three of your friends are sat in the living room and at least one of you knows what a wombo combo is and thinks they can pull it off, which is going to result in shouts, cheers, last-minute saves and savage beatings for everyone.
If you're from where I am from, it's nicer if you can get all of that without leaving the living room.
I broke out Brawlout on my Steam controller and began with some matches against the AI – following this I had a slap-around with some actual human beings, and roundly had my ass kicked. It's important that you know this, dear reader, for context. I am no expert in brawling.
I still had fun, though.
Brawlout – made and distributed by Angry Mob Games, and available on most formats – is a fairly pleasing game to play. It comes across as just slightly less polished than its AAA-grade companions, and the character designs are less iconic, for obvious reasons – but that can be an advantage. I can't be the only person that hates Kirby. You're instead presented with a nice little array of characters, with variable colour schemes – including some guest characters from other properties.
You folks played Hyper Light Drifter? Yeeeeeeah, he's in it. Neat, huh? (If you haven't – you should, it's great.)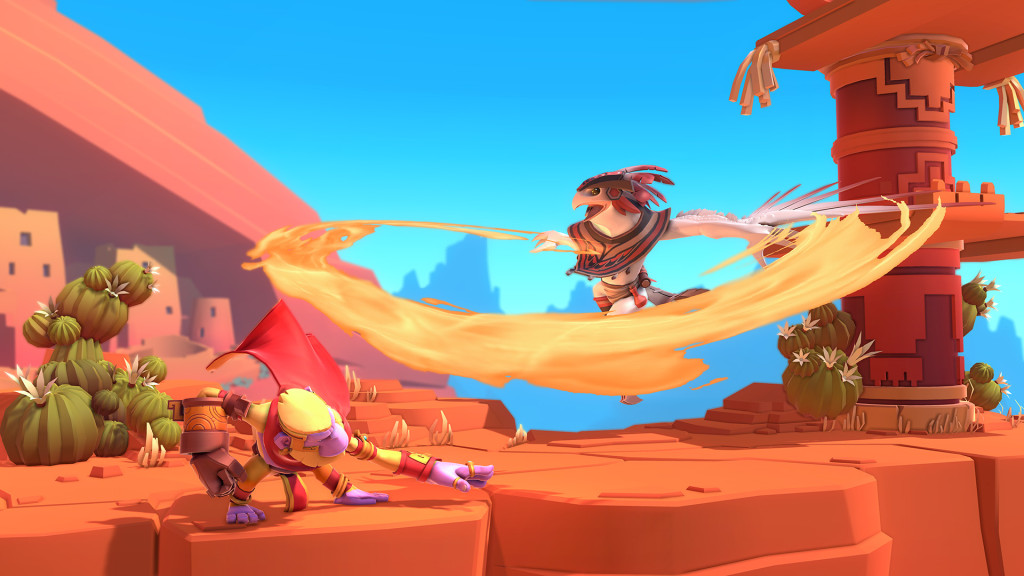 It looks pretty nice, and it handles well. Smooth. It feels good to play – insofar as the actual mechanics of jumping around like an imbecile while you work out how Olaf Tyson's specials work can feel good – and it rewards practice. Exactly as a game of this type should, but then it's amazing how often a game of a specific type or genre fails to fulfil the thing it is actually MEANT to do.
Each of the characters feels pleasingly different, and none of them are needlessly complicated. Usually there's always one that has a bunch of odd combos that, should they be performed under the blood moon with only your left hand, can defeat anyone in your path. Brawlout keeps the character count low and kind of benefits from that – there's no repetition in thematic or technique, and the Exemplars are balanced nicely against each other.
It felt…a little slow, against the CPU. That went away fast when humans got involved. I was outmatched very quickly, which is fine, as previously mentioned. I'm not good at this. I lost a few times in a row, and was still smiling when I quit the game. Easy to play, easy to enjoy, hard to master.
It won't replace Smash. I don't think it is trying to. It will scratch a similar itch – and those of you waiting for a new release of Smash would do a lot worse than picking up a copy of Brawlout to keep you on your toes. It's worth it, especially for the price point.
Let's go. Kick the sh*t out of your friends.