The minds behind Resogun and Smash T.V. have made a beautiful twin-stick shooter dream child and named it Nex Machnica. It combines the best of each of those games and distills them into one of the best bullet hell arcade experiences I've played. From the haunting 8-bit style splash screen featuring the main antagonist greeting players when they start the game to the heart-pounding score, Nex Machina bridges the gulf between the arcade cabinets shooters of years past and modern twin-stick design.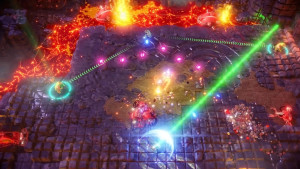 From the outset, players can jump into the Arcade mode (solo or local co-op) and start blasting intergalactic monsters. You start with a standard laser machine gun, but the weapon pickups scattered about the map range from rocket launchers to shotguns. Each weapon has its own unique advantages and disadvantages, but, most importantly, all are satisfying to wield. In addition to gun power-ups, there are player enhancements scattered around levels allowing players who pick them up to triple dash, throw down shields, and gain extra lives.
As every good shooter should be, Nex Machnia is simple to pick up and play but hard to master. Each map has humans to save, and the quicker you collect them, the higher you can push your place on the global leader boards. To run up the score further there is a wealth of secret areas to find and secret humans to save. But if you really like to chase high scores, you'll want to jump into the challenge arenas that remix levels and increase the enemy count.
All of the above makes for fast and fun gameplay. Yet, my favorite part of Nex Machnia is just how visually stunning the action is. The game runs at a consistent 60fps on PS4 with an impressive amount of objects on screen and myriad graphical effects to boot. When you shoot enemies in Nex Machnia they don't just explode like other shooters but burst into a plume of cosmic space glitter that's an absolute feast for the eyes. A true example of neon madness set against the backdrop of unique environments and lasers producing eyeball-popping visuals.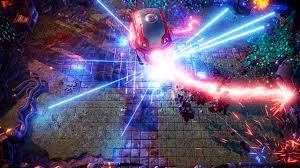 To complement the visuals, the soundtrack is responsibly dynamic. It adjusts to the level of action on screen when the field is calm and few enemies are on screen, the synthetic bass driven notes hum in the background of the zings and zaps of weapon fire. As the action builds, the sound swells into a cacophony that thumps in perfect harmony with the on-screen chaos.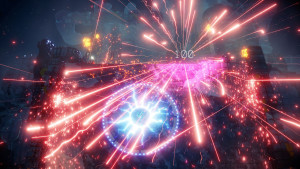 As you can probably tell by now I'm a big fan of the package that Housemarque and Eugene Jarvis have designed Nex Machina is a superb display arcade shooter perfection that any fan of the genre will enjoy. My only complaint is that the lack of online co-op. While a buddy next to you on the couch can jump into the action, it's shame you can't party up with folks online. But even without online co-op, there is plenty of content to keep me shooting up space bugs for hours on end.