The mobile version of Injustice 2 launched in the Philippines a few months ago, but it is now legally available everywhere. With the mobile US launch, and the console launch being next week, DC and NetherRealms fans are eager to play the follow-up to, really, what was the only semi-decent game based on DC characters. DC Universe Online failed miserably, the mobile launch of DC's imitation Final Fantasy game (aka DC Legends) was still-born, and DC Legends was also quickly ridiculed for being a pay-to-play mess of frustration.
This brings up a very puzzling point for the Injustice 2 iOS then: It's pay-to-play as well so why isn't it being maligned like DC Legends?
The short answer is that feedback doesn't matter. NetherRealms/WB is content to put out iOS games that aren't fully functional and WB's insistence that app games make money has only gotten worse, despite fans and players complaining that they don't want to pay to advance in a simple one-finger-hits-two-fingers-block mobile game. Yet as soon as you download Injustice 2 mobile, players are offered a pack containing a Gold Harley Quinn character for $45.00.
NetherRealms/WB has learned nothing from its past mistakes.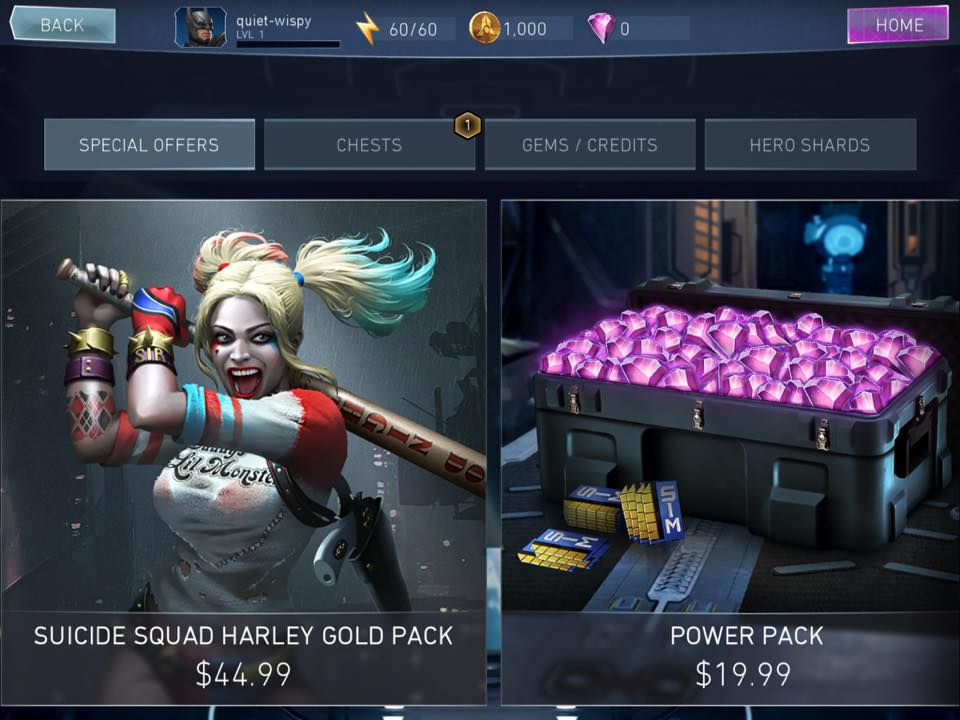 The above picture is offering players an advanced character that has been available in the Injustice 1 mobile roster for nearly a year. Why would anyone pay for this? The other unresolved frustration that carries over from Injustice 1 is the tons of grinding required in Injustice 2. After a match is completed, and if you win with a team of 3 select DC characters, then you will be rewarded with one or two of three different prizes. There are shards, coins, and some other thing that uses a lightning bolt symbol. As a result, if you need one of these rewards more than the others, then you'll be required to grind away until you get it. If you aren't successful, players will be stuck. To bypass all this grinding, you pay and may be able to advance further. However, if players do choose to pay and advance a little, you'll need to grind even more to build a solid team since you'll have two other roster spots to fill in your team in order to get to the next set of higher leveled matches. Or pay to do the same. It's a silly cycle that relegates Injustice 2 as more of a chore than a mobile game that is worth playing.
Furthermore, this situation isolates players who rightfully and intelligently don't opt to pay. These poor souls have no way of leveling up their roster easily and will be stuck. A similar example would be if Pokemon games allowed you to choose a starter and begin battles in tall grass. But when you got to the first gym, you had to pay in order to fight the Gym Leader. Without defeating that Gym Leader, the game won't advance. Neither will the Injustice 2 app. SO PAY!
On the other hand, to Injustice 2's credit, NetherRealms has added more control features. Sliding your finger backwards and tapping the screen launches a projectile, like Batman's batarang or Harley Quinn's hyena. Sliding your finger up is now a jump attack and sliding your finger down is a sliding attack. And while some players may appreciate this upgrade of adding 3 new attack options, it's already been seen in Marvel: Contest of Champions mobile.
In fact, Injustice 2 is Marvel: Contest of Champions mobile. The Injustice 2 app is simply a clone filled with DC Characters, so it's final, true purpose for players is simply to offer a copy of an older Marvel based app with lots of DC character skins instead.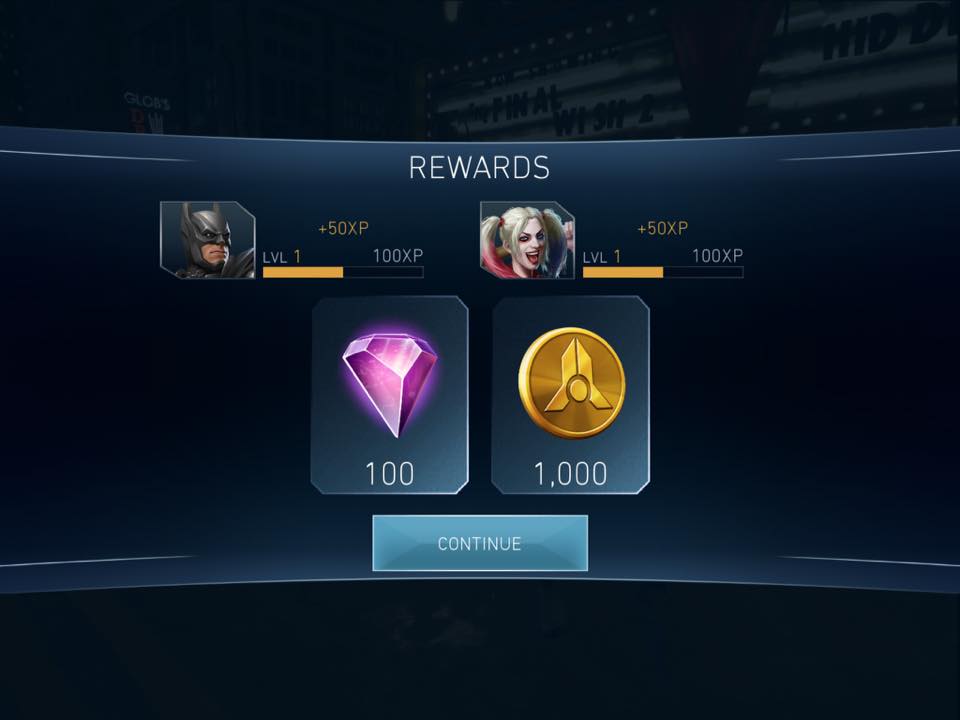 The fan boy defense of all this is that players want to fight as their favorite DC characters. And that's fine and acceptable to note. However, should non-fan-boys who want to also play as their favorite DC characters in a mobile arena not have a functional, slightly original game setting to do in in?
The answer right now is no.
But there you have it. Marvel: Contest of Champions provides a larger roster in an older mobile game app, and now DC has the same thing for their characters. In short, NetherRealms has gone backwards in an attempt to go forward and I'm not sure why either WB or NetherRealms expects players to be positive for regression and imitation over advancement and originality- both of which are lacking in Injustice 2.
Lastly, Injustice 2 is buggy as fuck. Swipe attacks sometimes work or are carried out in delayed actions. Some characters look polished and finished while other characters, especially Scarecrow, look like fuzzy blobs. In opening fight tutorials, we enacted Wonder Woman's super move and her appearance looked polished until she pulled out her lasso. Her lasso appeared to be photoshopped at best while most everything else in the scene looked crisp and clear. It was almost like watching a cartoon in high-definition with an inexplicable blur across the screen. But this is NetherRealms, isn't it? Patches will be released if enough people play this and graphics will hopefully be upgraded sometime over the next 4 years.
When WB and NetherRealms actually finish their product, then maybe it'll deserve positive reviews. Until then, Injustice 2 is a pay-to-play mess.