DC has always flooded the market. The outcomes of this economic practice are anything aside from either overly critical critiques or unusually high praise. Take Christopher Nolan's The Dark Knight as an example. Early reviews mostly noted that it belonged in the same conversation as The Godfather and Good Fellas as one of the greatest crime films of all time (unusually high praise). But others, such as the immortal Leonard Maltin, argued that the film was just one long action scene and, therefore, was not enjoyable to watch. There was no room for an in-between stance, no gray area, and nobody seemed to be allowed to settle. And similar results of flooding the market never cease. For instance, all CW shows are either "Gilmore Girls with costumes" and suck or they're the best shows currently on TV and should be added to DC/WB's cinematic universe.
And then comes Injustice 2. A fighting game that hasn't been released, is still revealing its main roster and DLC's, and has done virtually nothing to upgrade its game play aside from improve its graphics. Oh, what's that? Yes, the Wager feature is unique, the only truly unique feature that hasn't been seen in any other Mortal Kombat game before. Unfortunately, it nearly always results in a tie so it is a moot point further signaling that the upcoming Injustice 2 offers virtually no real reason to play it. But die-hard fans are excited to see which DC characters will fill out the game's roster. There may even be enough players to keep online matches viable for about two weeks. However, it's this final main roster spot for the game that is stirring controversy among NetherRealm's Injustice 2 faithful. And there's once again no gray area.
On April 28th, Ed Boon and his NetherRealm and DC and WB cohorts are believed to be revealing Joker in the final main roster spot of the console version of Injustice 2. This is all based on an unconfirmed leaked list which, to date, has proven to be 100% accurate. The problem players and fans are having with this reveal is that Joker was killed by Superman in the first issue of the Injustice: Year One comic book.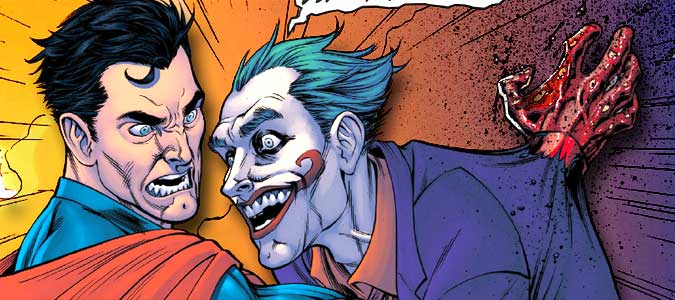 At the reveal that the Injustice Earth would allow permanent deaths came a rush of excitement from fans. Joker killed Scarecrow, used his fear toxin to make Superman think he was killing Doomsday, but he was actually killing Lois Lane and their unborn child, and then Superman killed Joker, Green Arrow, Black Canary, and on and on it went.
Of course, DC can never truly keep any character dead. Similar to the ridiculous Death of Superman comic arc, which sold millions of copies when Superman died (only to have him revived with a mullet a short time later), came the sobering realization by Injustice: Year 5 that Scarecrow wasn't dead. He was in a coma. Black Canary wasn't dead. She was just on the verge of bleeding to death. Green Arrow did in fact stay dead, but then Dr. Fate opened the way to another Earth and allowed that Earth's Green Arrow to come to the Injustice Earth. Yes, the Multiverse, where copies of each and every being on one of DC's Earths is found on a whole bunch of others, has allowed DC comics to make death a trivial detail, just as it must be in every fighting game, but this Multiverse will also be a huge part of all Injustice 2 game play options. In the current Beta of Injustice 2, if Black Canary fights against Black Canary, then one will tell the other to find her own Oliver. Therefore, if one of your beloved DC characters dies in any related Injustice comic, don't worry. Dr. Fate can find another copy, or Flash can go back in time, or Reverse Flash can go back in time, or Vibe can be introduced and easily travel to another Earth.
Death means nothing! But Joker is dead in Injustice. So…
On one side, fans claim that because Joker is dead he has no further place in any Injustice arc or game since his sole purpose was to turn Superman evil in the first game. Joker has nothing to offer.
The other side argues that Joker must be in the game since Batman is in it. Joker is the chaos-yin to Batman's order-yang. In addition, the main DC comic canon just revealed that Joker has been portrayed by 3 different, separate persons: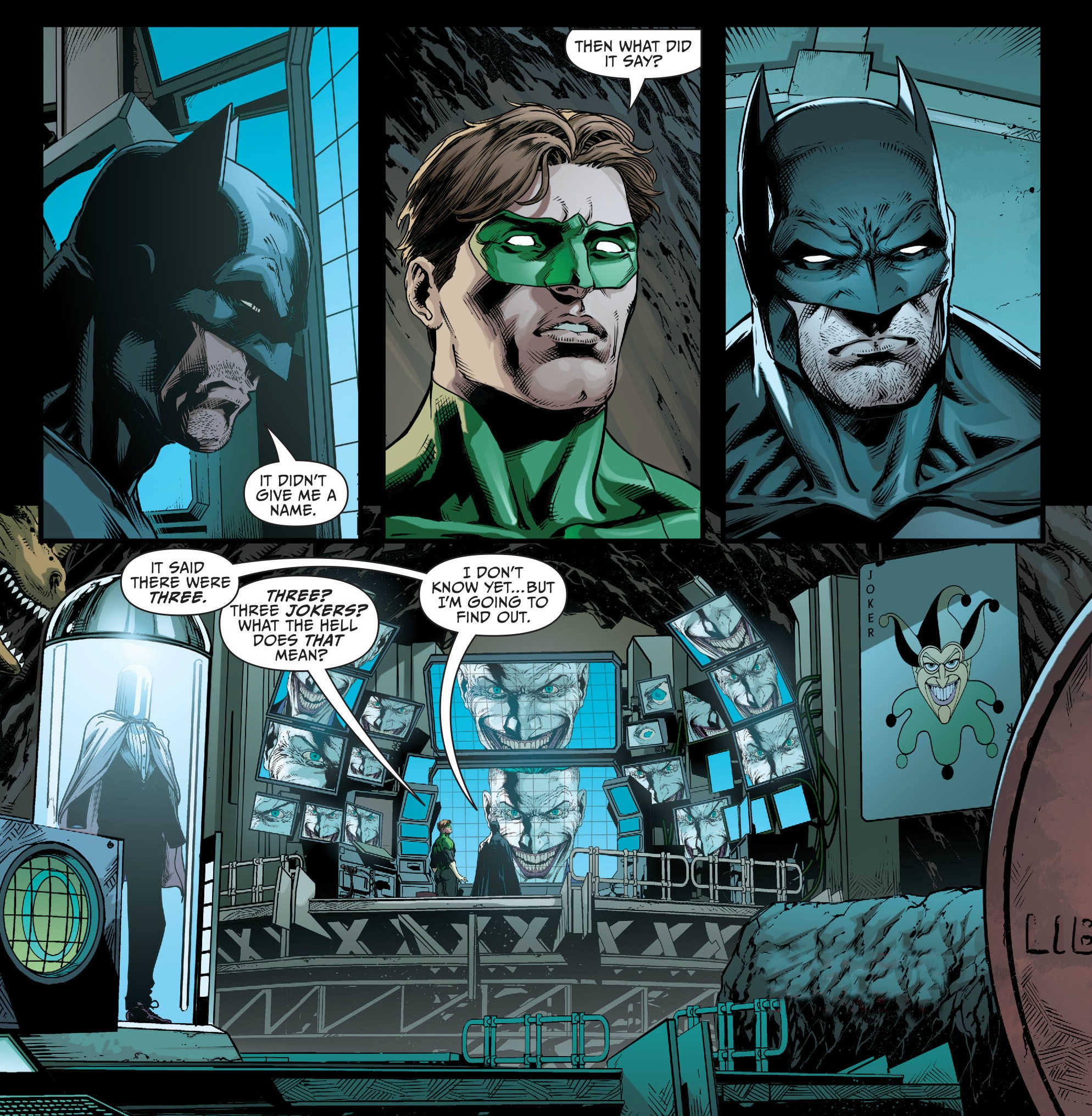 Although this main canon reveal signals that killing one Joker will lead to another taking his place, both sides seem confused as to whether this event will leak into other DC Earths, especially the Injustice Earth. But of course it will. Joker always finds a way to come back, doesn't he? In the Arkham franchise, Joker came back as a hallucination and forced players to use him instead of Batman. In the outstanding Batman Beyond: Return of the Joker film, Joker electronically implanted himself into Robin and took control of him even though Joker had previously died. Finally, this latest reveal shows Batman and Green Lantern discussing who the three people who have taken on the Joker persona are. They have no way of knowing, but it gives DC the cop-out right to claim that if one Joker on any Earth dies, then a new, more sadistic Joker will arise. This new Joker back story also explains why the Bronze Age comic adaptation of Joker was fairly calm and silly while the next Silver Age comic incarnation was more evil and sadistic – all while the latest Golden Age comic incarnation was utterly evil and bonkers and doing bat-shit crazy stuff that the other two Jokers couldn't fathom.
The fact all DC fans must accept for now is that Joker is smarter than everyone. He's going to show up on April 28th as the final roster spot in Injustice 2 and Joker fans will briefly rejoice before filling Ed Boon's Twitter account with requests for Heath Ledger skins. Those against Joker being in the game will get a Red Hood or Starfire DLC reveal at a later date and cease to care. Then, we'll wait another 8 or so weeks for the rest of the DLC spots to be filled while every console player grows bored and reverts to playing the app version since its free and has characters that aren't on the console versions (Wally West, Static, etc).
As always, as in every DC Earth, Joker is about to set-up a string of events that will lead to total destruction and chaos. Is it petty or worthy of high praise?