Pewter Game's The Little Acre is an adorable slice of adventuring that effortlessly blends Broken Sword with Don Bluth in a game that fans of old school point and clicks will be hard pressed not to fall in love with.
Set in contemporary County Mayo Ireland in the 1950s, the Little Acre tells the Story of Aiden and his Daughter Lily. While following a series of clues that could lead to the wearabouts of his missing father, an eccentric inventor called Arthur, Aiden accidentally stumbles into a mysterious device that transports him to another dimension – the weird (and somewhat isometric) world of Clonfira
Meanwhile, Lily wakes up to find her breakfast unmade and her father missing, after a quick spot of porridge made with the help of the family's long suffering Dog Dougal, Lily decides to look for her father, and it's not long before Lily is whisked off as well.
The pair then embark on an interdimensional adventure to find out what happened to Arthur, and hopefully find each other in the process.
Play alternates between Aiden and Lily, as each complete a series of simple, yet engaging puzzles that are usually confined to a single area. These are mostly traditional point and click fare with players using objects found within the environment to solve X. However, there's also some Broken Sword-esque brain teasers thrown in as well (Not surprising as the creator of Broken Sword, Charles Cecil the Executive Producer) and the occasional timed puzzle as well. There's nothing as infuriating as a certain notorious Goat, but there is some juggling with a door powering orb which is a little tricky to begin with.
Visually The Little Acre is a treat for the eyes. The entirety of the production is hand drawn and animated, from the bright, highly-detailed backgrounds to the cast of likeable characters that look like they've just stepped out of a Don Bluth movie.
The quirky homestead, set amongst the picturesque landscape of rural Ireland  is presented side on just like traditional point and click adventure games. However, when players step into the alien world of Clonfira, the perspective shifts to an Isometric perspective that has more in common with 16bit JRPGs than western adventure games (except for Amiga classic Valhalla) with Aiden and Lily transforming into wide eyed, big headed versions of themselves, which only heightens to the realms otherworldliness and makes the pair seem somewhat more vulnerable.
Accompanying the sumptuous visuals is a beautifully emotive score, and strong performances from its principle cast, with the down to earth Aiden is juxtaposed wonderfully next to his excitable and utterly fearless daughter Lily, the pair have brilliant chemistry in all their scenes together.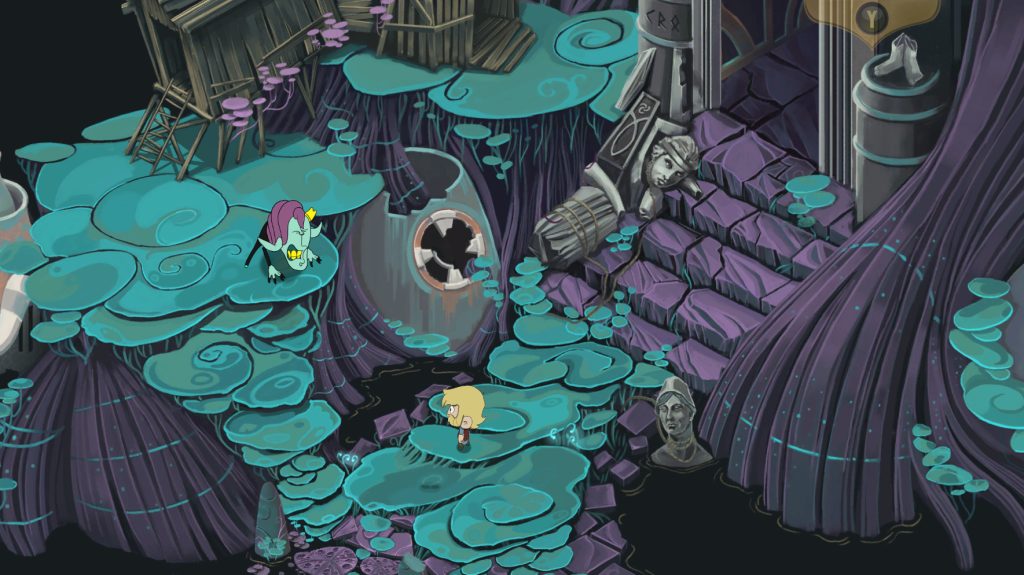 The only problem with The Little Acre is that it's over all too quickly. in fact, players can unlock a trophy if they finish it in under an hour. You could say it doesn't outstay it's welcome, but unfortunately it ends as soon it feels like it's just getting going. What should have been the end of the first half instead leads to a hurried conclusion. You get the impression that there was supposed to be more, but the developers didn't have the resources to do half the things they wish they could. (If this is the case I sincerely hope that an extended version eventaully comes out.) .
However, it's hard not to fall in love with The Little Acre. The combination of a beautiful and intriguing setting, well-constructed puzzles and likeable well- scripted characters, make for a marvellous albeit brief adventure that stays with the player long after the credits role.