The first thing to note about Harmonix VR, is that it sin't a game. If you;re expectinv some kind of VR based rhythum game, you're going to be sorely disssapointed. (I'd reccomend checking out the latest re-release of REZ).
Harmonix VR is basically a way to get people to sit back, relax and spend a few hours listening to some of their favourite tunes. It's a VR visualiser spread across four modes, and though it's quite nice for what it is. it simply isn't substantial enough, and as such feels more like an experient of nice curio, than a must have app for your shiny new VR helmet.
The main mode is a non-interactive version of the "road" from Harmonix previous work like Amplitude, and Rock Band, It just does everything automatically without the player having to do anything except lie back and listen. It's basically one of those psychedelic screensavers that you get in media players like Winamp, and Windows Media Player, except thanks to VR you're surrounded by it.
It's fun for a while and Seeing the peaks and troughs of the music emerge before you in real time is rather cool. The odd deprivation chamber effect thanks to the VR helmet does help to make it a rather relaxing experience too. I'd recommend using it in short bursts though, because after a while, the effect seems to diminish as your brain gets used to what's going on.
You can use your own music in Harmonix Music VR too, by plugging in a USB pen with all the tunes you want to use put in a folder labelled Music. Most file formats are supported too including MP3 and FLAC, which is nice.  I would highly recommend doing this too since the game only comes with 17 tracks, and off the top of my head I can't name one of them.  Most of the tracks are in house jobbies from Harmonix, and electronica, which I don't mind but not something I listen to very often, and like I said nothing stood out. A stronger list of tracks would certainly have been appreciated. But with the ability to just plug your own music collection I can understand why they didn't bother.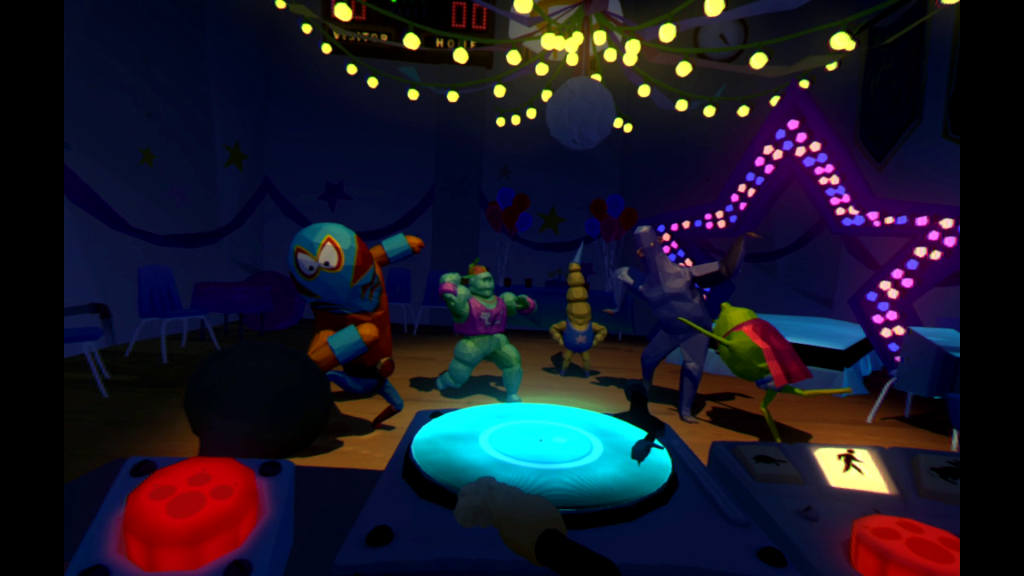 The other three modes on offer are incredibly light on content, and though interactive aren't particularly inspiring. There's a sort of exploration mode called The Beach where you look at specific points in the distance to walk to them , while the sky box jumps about in time with the music. There's an incredibly rudimentary drawing app called the Easel, and finally there's The Dance, which has you manipulating a group of monsters and robots to make them shimmy and shake at a high school dance. It's a cute mode, but not one that will hold your attention for very long.
If the thought of  kicking back, putting on the VR helmet and spending a couple hours digesting a couple hours sounds like a wonderful way to spend a relaxing afternoon, then Harmonix Music VR is worth queuing up. Just be aware that it is incredibly limited, and that this isn't (and was never supposed to be) a VR version of Amplitude, as awesome as that would be.