When PSVR launched back in October, Sony's virtual reality headset had an impressive start. A large varied portfolio of titles with quality exclusives, and a simple set up made it a very tempting entry point into the wonderful world of VR gaming. Unfortunately, less than six months after the exceptional launch, games for Sony's entry level VR device have slowed to a trickle. Initially planned as a Launch title, Frima's Fated: The Silent Oath has, after a pretty big delay, has finally made its way to PSVR and brings some much-needed relief to a platform in desperate need of more games.
Fated is a first-person narrative-driven walking simulator set in the world of Norse mythology. Players assume the role of Ulfir, a Viking recently slain and brought back to life by a wayward Valkyrie. However, in a bargain more befitting Ursula the Sea Witch, than a shield maiden of Valhalla – Ulfirs voice is taken as payment for his resurrection. Upon rejoining his family, Ulfir's village is attacked by giants and they are forced to flee.
Ulfir being mute is a very clever trick which greatly adds to the sense of immersion and immediacy offered by VR. Since the player can't speak, players engage with other characters by shaking or nodding their head. This tactile form of interactivity places players squarely in the scene and helps them feel like they are a part of the word and at one with the character in a way that works far better than if they were just left to listen to Ulfir responding to other characters without actively engaging with the other characters.
These Exchanges mostly take place with Ulfir's wife, daughter, and nephew. Each is engaging and thanks to some superb voice work from the principle cast make players connect with, and care about their virtual family. It's a good thing to, as Fated is not a very long, clocking in at only 80 minutes from start to finish. Though there are a couple of small puzzles to solve along the way the bulk of your time is walking and talking, well nodding.
It's clear that Frima understand the limits of current VR tech well, this is evident in Fated's visuals, opting for a stylised look rather than realistic visuals which VR, and PSVR in particular, cannot handle yet. As a result, we're presented with a game which uses design and colour to well to compensate for its technical short comings to great effect. The game's environmental design is exceptional, using in game murals to help convey information about the wider world of Norse Mythology to the player with great effect. While Characters are well designed and beautifully animated, giving the world of Fated a wonderful sense of life and vibrancy, which helps immerse players further still.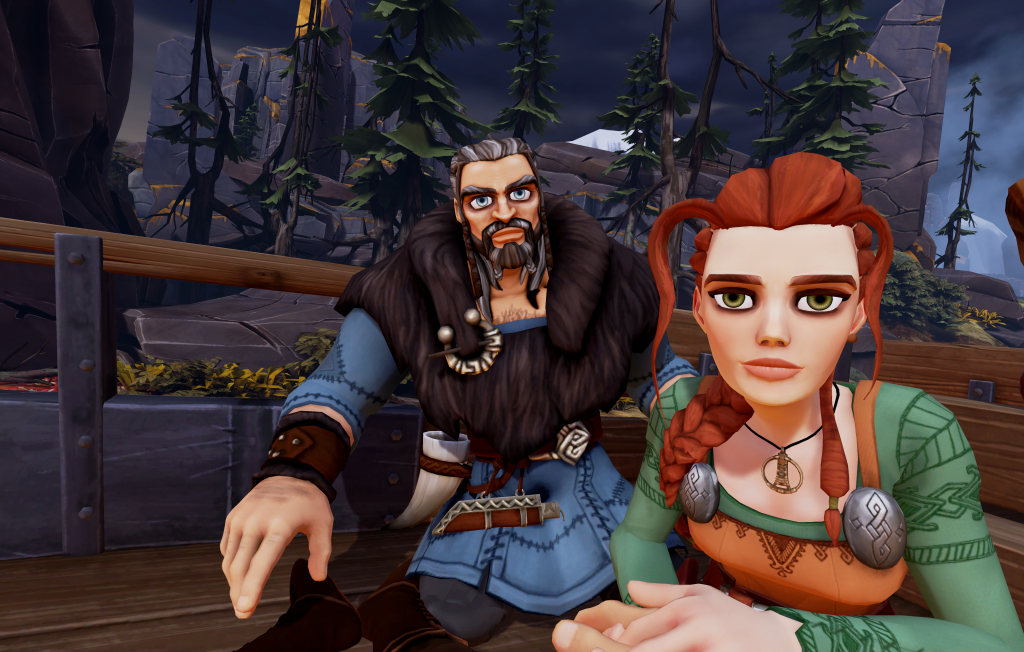 Meanwhile, Fated's soundtrack is nothing short of enchanting, in particular the main theme – a melancholic mix of piano and strings which sets the tone of the game perfectly. Meanwhile the game's voicework is superb helping to heighten immersion and make the player care about his family.
Fated: The Silent Oath is a brilliant, but all too brief reason to dust off your PlayStation VR headset. Though VR walking simulators are becoming incredibly common, Fated stands out from the competition by creating an incredibly immersive and touching experience, with a strong narrative, likeable cast and beautiful visuals that place players right in the heart a wonderful mythological world, its just a shame they don't get to spend more time there.