It's hard to believe that Psychonauts, is almost 12. Double Fine's endearing psychic-powered platformer has been in the limbic system of gamers ever since, not only because it has seen numerous ports and re-releases, (hitting the PS4 only a couple months ago), and also that, finally, thanks to a successful crowdfunding campaign a full-blown sequel is finally in production at the studio.
Before we get to enjoy the delights of Psychonauts 2, we're off on Raz's first mission as a Psychonaut to the Rhombus of Ruin, a first-person VR adventure game created especially for PSVR. Though it is an epilogue of the sorts, bridging the gap between Psychonauts and its upcoming sequel, if you haven't yet played the original, it still works well as a stand-alone experience. (If anything, you'll want to go back and play the original afterwards).
Fans of the original, are clearly the target audience here though and are bound to get a kick out of being reunited with these beloved characters after so long, it also helps that the Rhombus of Ruin is easily one of the best experiences available on PSVR.
Rhombus of Ruin begins moments after the ending of Psychonauts, I mean literally, with newly inducted Pyschonaut Raz, along with his 'maybe' girlfriend Lili, and teachers Sasha Nien, Coach Oleander, and Milla Vodella on a mission to rescue Lilis father, leader of the Psychonauts, Truman Zanotto. However, after a the jet they are travelling in crashes into the mysterious Rhombus of Ruin and his companions are nowhere to be found, it soon becomes clear that it is up to Raz to rescue, not only the leader of the Psychonauts, but his comrades as well.
Raz's Psychic abilities are a perfect fit for VR – he can use clairvoyance to teleport into the consciousness, and bodies of others, enabling him to traverse the world and find puzzle clues, by hopping from character to character, seeing the world from their perspective. Its worth noting that al of these characters are relatively static, not only does this get over the motion sickness problems that moving in VR can create, within the world of the game it makes perfect sense as well.
This also extends to Raz's other powers such as his ability to move and poke objects with telekinesis, setting things on fire with pyrokinesis and smashing objects with Raz's psyblast ability, all of which are directed by a combination of button presses and moving your head.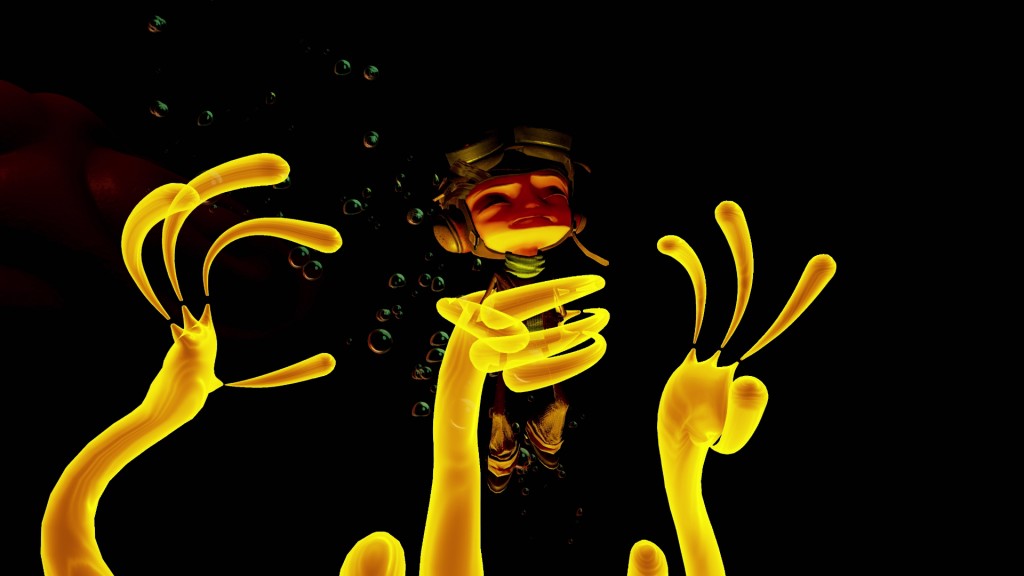 What follows is a charming, funny, though not-very-taxing adventure that will leave you thoroughly entertained and eager for more. It's clear that Double Fine are one of the few developers that know the limits of, and the best ways to use VR to tell a story. Most impressive was the way that Double Fine successfully toyed with player's perspective and scale throughout the course of the 2-3 hour experience – Making players feel tiny by looking through the eyes of a flea inside a music box in one moment, then taking in the majesty of life as a Blue Whale in a sequence where your gignatic size goes straight to your head. These marvellous moments, and there are many more (especially during the games climax that I don't want to ruin) have stayed with me days after play, show the immersive power of VR at its best.
The one area it falls short in though is its puzzle design, which is incredibly simple, with only one block puzzle providing even the slightest challenge. It's also worth bearing in mind that I did play through the entire game in one sitting, and there's no real incentive to return to the game after the credits roll, and at $20/£18 there's not much bang for your buck.
If you're a die-hard Psychonauts fan and you have PSVR chances are you already have Rhombus of Ruin downloading as we speak, for everyone else though, although there's no denying that it's a marvellous PSVR game, but like most of the brief, but pricy experiences available for the tech I would advise waiting for a sale before you pick it up.
But, I will say this: after playing Rhombus of Ruin, Psychonauts 2 can't come soon enough!