Insomniac has been pretty busy of late. After releasing the brilliant Sunset Overdrive on Xbone, they turned their hand to successfully rebooting Ratchet and Clank, and now it seems they've decided to spend their downtime showing that they are just as capable and comfortable in creating traditional indie fare as they are in the AAA space.  By bringing gamers the absolutely beguiling 2.5D Metroidvania Song of the Deep.
Players take on the role of a young girl named Merryn who, when her seafaring father doesn't return home from his latest fishing trip (and having had a strange vision of him trapped beneath the ocean), decides to build a small, rickety yellow submarine from scrap and spare parts and venture down into the depths to find him. It's a simple tale, eloquently told, well written, and narrated perfectly by Siobhan Hewlet (Sherlock, Dredd).
The first thing that hits you is how beautiful the game is, with storybook visuals during cut-scenes and with bright, colourful, yet surprisingly detailed underwater environments during gameplay. It's all so very well realised. As you plumb the depths in your ramshackle vessel,  you find that the abyss is full of wonder and mystery, punctuated by the whirr of your craft and a melancholy soundtrack that can best be described as…Elfmanesque? It all blends together to create a game that tugs at your heart strings as well as your brain meats. However, despite the nigh-on flawless presentation, there are a few technical issues which marred proceedings.The frame rate dips when things get hectic, and it pauses jarringly each time you hit a save point. Neither are the end of the world by any stretch of the imagination, but they certainly bear mentioning all the same.
This being a Metroidvania, Merryn's craft is pretty barebones to begin with, having no abilities beyond simply moving through the water. However, it doesn't take long for her to stumble across the trusty Magnetic Claw which can be used to grab and throw things, as well as protect the craft from the abyss' less friendly inhabitants. As you progress, the map begins to slowly open up and you can recover more useful additions to your craft such as search lights and torpedoes; eventually Merryn even finds a diving suit, allowing her to leave the submarine altogether.
Song of the Deep is relatively open ended, and after gaining a few upgrades, you're able to explore the map more freely. You never feel lost, as there's always a big yellow X on your hastily drawn map which shows you exactly where you need to go next. Like similar games of its ilk, the real fun lies in going off-piste and exploring the map's nooks and crannies in order to uncover hidden treasures and upgrades to your vessel. These aren't limited to simple health/ammo upgrades either, as there are new abilities and complex puzzle rooms that you will miss if you simply follow the trail of X's to the game's conclusion. Given how the map is constructed, and the sheer beauty of the world, you'll want to explore every inch of it.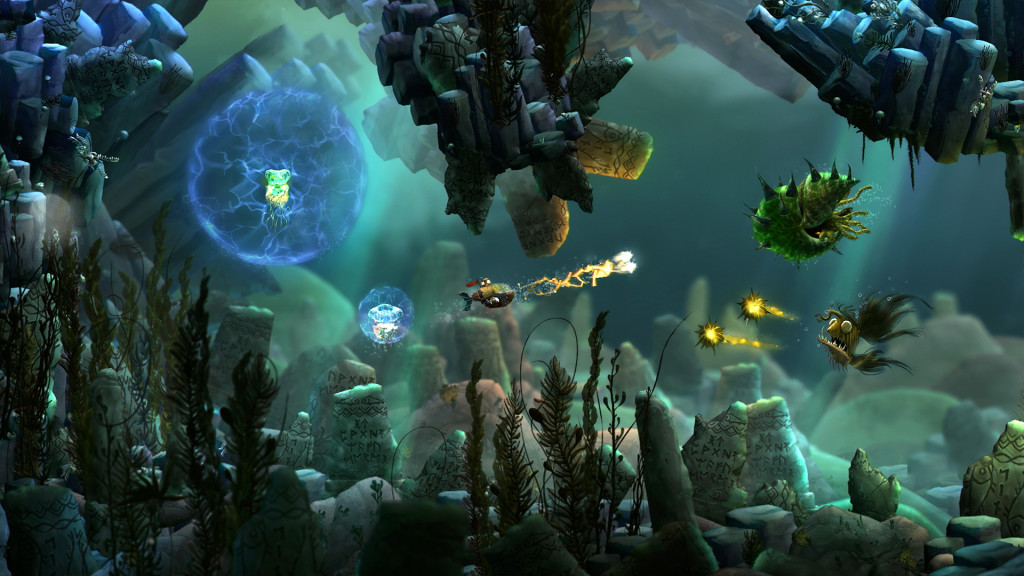 Throughout the course of the eight hour adventure, you'll spend as much time fending off all manner of angry aquatic beasts as you will do exploring. Luckily, pretty much all of the submarine's abilities work as both navigational aids and weapons, so you soon find yourself well equipped to make some impromptu sashimi. The most obvious of these are your torpedoes, which (in proper Metroid fashion) have different effects; ice torpedoes slow down your enemies, while magma missiles leave an ashen cloud that chips away at their life. Fighting these nautical ne'er-do-wells is the weakest part of the experience to be honest, as floaty underwater controls often make it hard to evade attacks, and most of the time it is more worthwhile to flee the area than engage them for the meagre rewards gained through combat. This makes areas in which you are locked in a room until you've beaten all the baddies somewhat tiresome. Likewise the game's boss battles are more of an anticlimactic chore than a battle of wits, though I will say that the bosses themselves look lovely.
On the whole, the game's puzzles fare only slightly better than the combat. None of them are particularly difficult, but are entertaining nonetheless. The clear highlight is about half way through the game, where you need to guide a beam of light to the top of a tower by bouncing it to a series of mirrors reflecting the light into switches. However, most puzzles require you to open doors by pulling chains, rebuild statues, or push large barrels onto pressure pads. These are particularly fiddly, and you'll find yourself fighting the controls and the game's physics as you attempt to shunt the thing with the nose of your submarine, only to see it unexpectedly bounce around or fall off the switch entirely.  This will result in you eventually having to wedge the barrel in place with other random detritus as it simply won't open the gate otherwise.  If you've ever played Castlevania: Order of Ecclesia, and remember nudging the barrels of underwater explosives around, it's a little bit like that.
Song of the Deep is a big, beautiful game with plenty of heart. Navigating Merryn's craft through the lush seascapes is a lot of fun, with new abilities added at a steady pace, leading to me thinking "oh I'll just do the next bit" until I realised it was almost two in the morning. The gameplay may be good, (and surprisingly addictive), but the real highlight is the beautiful presentation and spellbinding narrative. It really makes you want to push onward to see the next chapter of the beautifully rendered tale and find out if Merryn ever finds her father.