I have always had a bit of a love/hate relationship with the more realistic racing sims.  As much as I love a good arcade racer, I find it hard to get to grips with them. I still remember fully upgrading my Dodge Viper in the original Gran Turismo, and thinking it'd help me win, just before ploughing it headlong into the side of the track on the first corner, and finding it impossible to drive. My mind was (until very recently when I finally learned to drive for real) set up to try and drift on corners and toss shells at my opponents. I can manage Mario Kart, I'm a master at Crazy Taxi, and I played through Driver with a steering wheel.  I even got through that hellish opening with it.
But in a proper racing sim, I drive like Mr. Bean. I take corners too quickly, or end up skidding into the gravel because I hit the brakes too hard. This applies to recent games like Dirt (without assists), DriveClub and F1. It's not through a lack of trying (though a lack of steering wheel probably doesn't help), as occasionally I look at a 'proper' racing game and think: 'I might give that a go'. but at this point I had pretty much resigned myself to the fact that maybe I just sucked at racing sims.  But then came this review, for the GOTY version of Project CARS, and the little voice in the back of my head piped up: "This looks cool, and you missed it first time around. Maybe you won't suck at this one?"
So, I decided to give it a crack, starting off in career mode with the karts. My first time round I span out, missed corners, went too slow and generally sucked at it. However, after deciding to bite the bullet and put the game into beginner mode, everything slowly began to click.
Despite being arguably one of the most accurate racing sims ever created (weather even effects the handling of cars in realistic ways), it also has one of the best set of assists I've ever seen in a game for novice drivers, and does a brilliant job of easing players into the experience. It provides all manner of gauges and racing lines to show you where you need to be on the track, and letting you know when to brake and when to ease off the accelerator. After a couple messy attempts, I managed to actually get round the track without spinning out and ending up in last place.
Don't go thinking that Project CARS is an easy game, though. Far from it. Normal is punishing, with hard basically being the Dark Souls of racing games. Regardless of your skill level, it takes a lot of patience and practice if you want to climb up the rankings and get through the games (lengthy) career mode, which takes you from karting all the way to Formula 1, with everything in between.
To call the game comprehensive is an understatement, with over 35 locations and 100 tracks (plus DLC) included in the GOTY edition, along with a staggering collection of cars to race (and modify) to your hearts desire.  Actually, the modding is so comprehensive that I got pretty confused by it, but then again my knowledge of cars is limited at best. It seems like the kind of thing that would be a petrolhead's dream. Luckily for the rest of us it's not at all necessary to win races, though it does obviously help.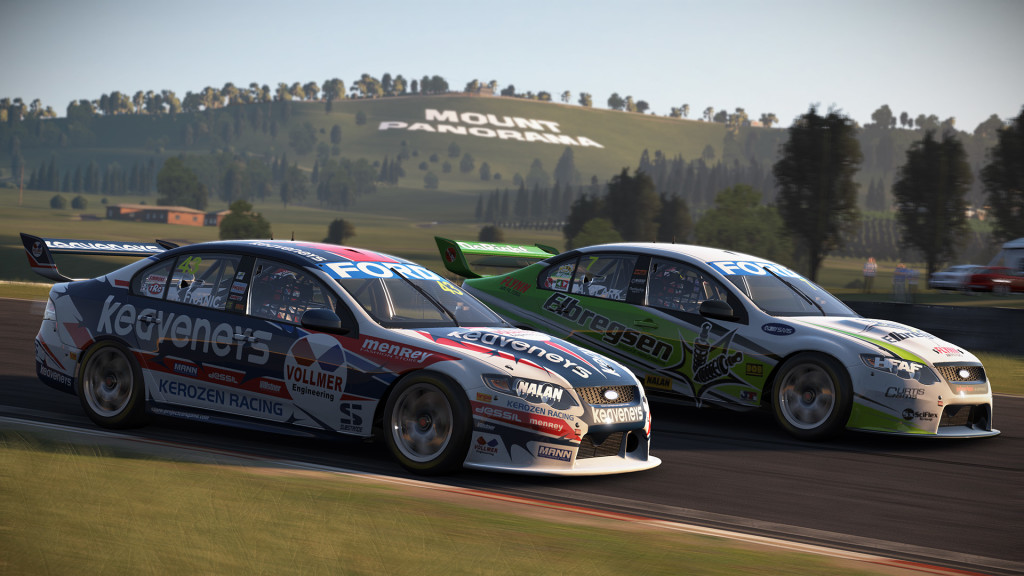 The time of the day and the weather changes proceedings considerably, as every car handles differently, and there are so many buttloads of tracks that you're bound to find something to put a smile on your face. What's more, every track and vehicle is unlocked from the off. You simply set things up, and away you go. There's no buggering around with in-game money and nothing's hidden behind a real cash-monies paywall.
The main event is Project CARS' colossal career mode, which starts players off with Kart racing, working your way to Formula 1. Pleasingly, you can also choose where your career begins, so you can make it as long (or as short) as you want. of course, I would recommend starting at the very bottom and working your way up,  with higher-tier races requiring a lot more skill. Working through the lower ranks also helps you to learn the tracks you'll be going around later on, and get a proper handle of Project CARS' somewhat delicate controls (at least with a pad anyway, from what I've heard the game really is best played with a wheel and pedals to hand).
Those that like to tinker with things will be happy to know that almost all of the game's customisation options are available while playing career mode as well, with only your choice of car (as you begin by signing a contract with a specific team) and weather being governed by the game.  As well as making tweaks to your car, you can also tailor the difficulty to suit your needs, by choosing how long a race is, and how forgiving/ bastardly you want your opponents are.
With everything unlocked from the off, some will ignore the single player aspects entirely and will no doubt head straight for the feature-rich online mode. I know I'm not great at racing games, but I have to say that this is a fool's errand. Especially at this point in the game's life, there are a lot of talented drivers still playing the game that will kick your arse to the barriers and back. It's best to learn to walk (roll?) before you try beat RACER_X at Silverstone.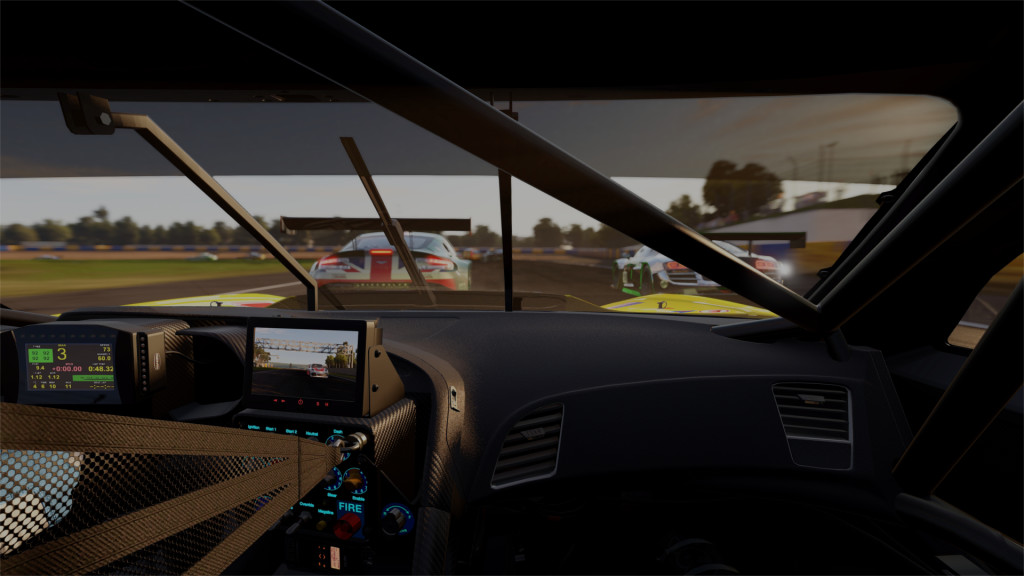 Project CARS' visuals are simply astounding, even in a genre which is lauded for its realism. Every car in the game's considerable roster has been meticulously recreated, showing an attention to detail which could best be described as obsessive. Not only are the exteriors perfect, but the interiors of each car have been accurately recreated. On the other hand, tracks don't fare quite as well as the vehicles, and can look a little dull in comparison, (though admittedly they're still fairly pretty), though considering you'll be screaming round them as fast as you can, it's a small trade off.  This was no doubt done to help Project CARS hit the steady 60fps demanded by the genre, which for the best part it does manage. At least, in the dry. There are occasional dips to the mid-40s when things get hectic and the rain starts coming down, and though I didn't find it having any detrimental effect to the experience at all, a lot of players might feel cheapened by the loss of quality.
Project CARS is the first serious racing game I have gotten into in a long time. As someone who would much rather be powersliding down the Rainbow Road, than tackling The Nurburgring, it's easily one of the most welcoming games I have played in a genre that often feels impenetrable to newcomers. What's most astonishing is that it has managed to achieve this while also being a game that hardcore fans of the genre (and motor sport in general) will adore, with a difficulty that will keep them satiated.
The complete GOTY package, along with a years worth of tweaking and additional content simply make an already sizeable game all the more appealing. If you're a fan of the genre, or, like me, you have the occasional dalliance with it. I would recommend taking Project CARS for a spin.