Apokolips Darkseid Challenge
As soon as Apokolips Darkseid was revealed, there was a fever pitch to uncover what all both he and his minion, Dark Racer, were capable of. Our field agents are still researching all the unique status effects Dark Racer can inflict on his enemies, so we'll have that updated as soon as possible. Thus far, players know that Dark Racer can steal Health, cause Critical Damage for Darkseid's combos and specials, and he can also seemingly cause a type of "Radiation" field that drains Health. In the meantime, Apokolips Darkseid has been confirmed as an offline Challenge stage. Check out the required card-fighters you'll need to capture him when he's officially released: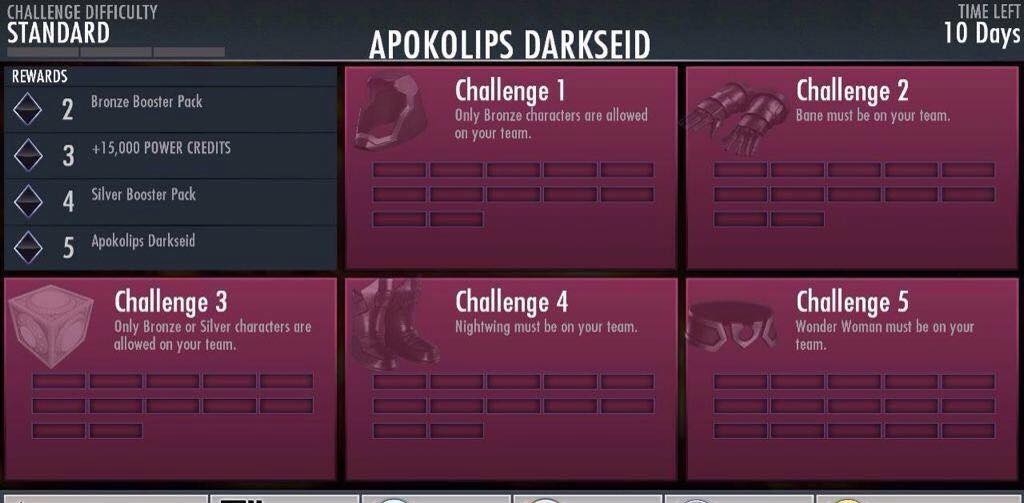 A team of Bronze card-fighters, a team of Silver card-fighters, a team with any Bane card, a team with any Nightwing card, and a team with any Wonder Woman card is the stuff of the New Gods you'll need!
Are You Voting?
No, don't bring up Trump- the reality star whose buggered his way into the public eye. Geez.
We digress, so head over to the official Injustice Facebook page and vote for the new card pack that you want to be added to the mobile arena:
More specifically, as noted above, whenever players Like or Share a card pack, then it counts as a vote. Although this is a typical free-marketing practice to boost the number of members right before the holidays, it does offer fans some control. When the console version of Injustice: Gods Among Us was first released, a contest was held where fans could vote for individual characters. The hero/villain with the most votes proceeded to the next round, and Batman eventually captured the number 1 spot and title. Similarly, the packs will now be fighting each other under public control. Will you join the fight, or will you standby while others dictate the game's fate?
Marc Briatack sets the record straight on Red Lantern Hal Jordan
As a member of the admin on the Facebook page  INJUSTICE: GODS AMONG US MOBILE FAN FORUM, and coming off an amazing extra roll on the DC series Gotham, Marc is no stranger to the game. Thus in our last article, when we addressed our disappointment in Red Lantern Hal Jordan being Nerfed, Marc offered a different view.
Now, an essential tactic we're calling the "Briattack"…. players using Hal should start a match by using his Super attack. After the attack finishes, tag out the Red Lantern. This will allow Hal's Power Bars to refill as well as not sacrifice any extra Health by blocking or taking Special damage from the foe. Once players can tag in again, use Hal's Super again. You can do this all weekend! It's a nice pattern that helps keep Hal as an option for the players who use that fighting style. Granted, we're all going to miss those original 8-15 second victories from pre-Nerfed Hal, but we gotta use what we can.
Our thanks to Marc for his unparalleled strategy and insight, and to our buddy Karl for the Apokolips Darkseid Challenge update! Hey, did you guys see that new X-Men preview with Jean? It reminds us of something else Marc made. What was it….