Earlier this year tickets went on sale for Silent Hill Live, a musical experience rated 18 featuring series' musician Akira Yamaoka and his band. I picked up my ticket within minutes of them going on sale but needn't have panicked as apparently the world is not as into the music of Silent Hill as we. What strange people. With the editor and guest writer in tow we descended on Cardiff…or…rather…took a very short walk, to our venue for the evening; the Tramshed.  A modern looking development though initially unassuming and with nothing to suggest it was the place we wanted, we actually walked past it the first time, discovering it by a process of elimination. Though we hadn't entirely ruled out the gig taking place in one of the numerous boarded up buildings, this was for Silent Hill after all. 
While the ticket declared the main event started at 7, we would soon discover the warm up act would start at 8, Yamaoka at 9 and we all had to be in bed before 11 at the imposition of a curfew. While we started queuing for the doors it soon became clear the courtyard wasn't organised enough to sustain us and we snaked ourselves around every available wall before becoming a suitably themed ourobourous, with few able to determine where the queue ended. 
Inside the chairs were cable tied together to prevent them from moving which also let you get very cosy with your neighbours all around. It also meant that if you wanted to get up, the entire row either had to get up with you or you had to clamber over them. And we're not talking "oh tee hee my leg brushed against them" we are talking full blown, "I'm so sorry I don't mean to sit in your lap, I can assure you I'm a married woman." There was a bar in the room with us, which was reasonably priced as far as soft drinks went, no doubt made up for by the expensive alcohol. It did mean that there was no massive rush at the intervals to get a drink as people could freely leave their seats (inappropriate neighbourly contact notwithstanding) and buy drinks at any time. Same for the toilets. 
If I don't mention the warm up act, he'll be conspicuous by his absence. We googled him extensively beforehand but couldn't find a single reference to him online and you won't find one here because honestly I can't remember what his name was, though he was certainly not forgettable. He basically did a set of industrial style synth noises wearing a pig mask, which at least fitted the theme. The music went over our heads though and it soon became clear that, with the exception of the three people who evidently knew him personally, nobody was all that impressed and by the fourth song the level of conversation had risen to almost drown out the deafening synth. Bless him. He wasn't helped by piss poor lighting, why the technician thought people in a completely dark room wanted to be flashed at eye level with painfully bright strobes escaped me, and judging by the way everyone either looked away, closed their eyes or hid their face in their hands, it did the rest of the room too. Not all his songs were bad, some were even palatable. But suffice to say the loudest cheer the poor sod got was when he left the stage, uniting the room as we all turned to those around us and sighed, "what the hell was that?" One among our number suggested that if his intention was to make us feel like we were in Silent Hill he certainly did. Though more for the purgatorial hellishness than the music.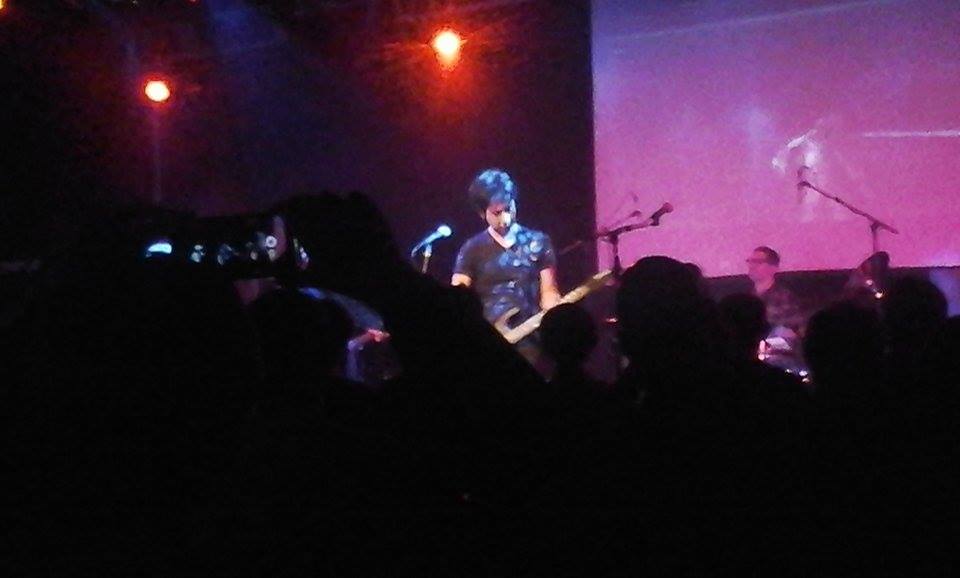 Half an hour later the band walked on to Betrayal and raucous cheers. But the crowd positively exploded when the man himself joined them. They started with Theme of Laura, scenes from the second game projected behind them, featuring a healthy dose of Pyramid Head. After their instrumental was done Yamaoka introduced our gorgeous vocalist for the evening; Karena. She had a beautiful voice that did Mary Elizabeth Glynn a great deal of justice. Starting with Waiting For You they proceeded to fulfil a dream for those of us who have been listening to the live version performed at Heaven's Door night club for years, and wishing we had been in the crowd. Naturally the music was amazing and a nice mix of popular favourites and a few that everyone remembers the name for but didn't listen to all that much at the time. There was little in the way of instrumentals, focusing instead on the upbeat rock-like vocal stylings that increased in frequency as the series went on. They did Letter and Room Of Angel to great reception, and made those of us who prefer the slower numbers like I Want Love  and Acceptance very happy. Accompanying the music was footage from all of the games in varying degrees with Silent Hill: Downpour obviously missing, as well it should be. Silent Hill 2, 4 and Homecoming featured the most heavily with a smattering of 3 and Origins and very little from the titular game and it's re-imagining Shattered Memories. As the night drew on we started taking bets on what would be the grand finale. When Karena announced they were doing one more song and it proved to be a relatively minor number the encore was a given, though apparently not to the people who decided to leave to beat the potential rush of a relatively small room leaving into ample space. 
Returning for the encore Karena was absent, and though with eminent geniality Yamaoka asked what we would like to hear, there was only one answer and they'd obviously prepared for it. They performed the original theme and followed it with Promise before Karena rejoined for a finale of You're Not Here (winning us the bet in the process). 
It was a great night with fantastic music, Yamaoka showing his versatility by playing a number of guitars and the keyboard. Of course it was a wonderful night albeit expected, given that Yamaoka is a brilliant musician as was his band. Silent Hill Live is touring until the 6th November in London, Manchester, Southampton, Glasgow and Brighton.