WASDuk's resident critic-of-everything has just finished the 13-episode Daredevil series, which is now available on Netflix. Over the next few days, Chris Patton will analyze what the hoi polloi, or common man, should learn from the series.
PART 1: Wilson Fisk is Lex Luthor
On March 25th, Warner Bros and DC released the first photo of Jessie Eisenberg as Lex Luthor. It largely went unnoticed and there wasn't much discussion about one of the most notorious villains in the DC universe because Marvel and Disney completely upstaged the news by debuting the fantastic Vincent D'Onofrio as Wilson Fisk on the small screen.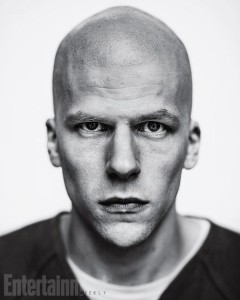 The Daredevil series doesn't even bother to use Wilson Fisk's famous moniker, The Kingpin, it doesn't need to, and the properly gory fight scenes in which Fisk bloodies The Man Without Fear into a writhing pulp only puts the icing on the cake that any cinematic villain we're given must be of the highest quality. Daredevil, like Batman, is a flat character. His disabilities that are actually advantages and his fighting skills are about all there are to him. As a result, his more colorful sidekicks and allies, like Foggy and Iron Fist and Black Cat (Batman needs Robin, Nightwing, Oracle, etc.), are needed to keep the fan's attention. Without them, the brooding darkness of Hell's Kitchen (in DC, we call it Gotham) and Matt Murdock's overly juvenile courtroom rants about justice and fairness are about as interesting as Helen Keller jokes. They're fun once or twice, but the subject must be changed to stop people from walking away after a minute.
What's even more surprising about Daredevil is that the latter heroes, Iron Fist and Black Cat, don't appear. Daredevil's mentor, Stick, is shown in two episodes training a young 13 year-old Matt Murdoch. Later, Stick fights alongside Matt to stop the mysterious "Black Sky", and this all falls loosely in-line with Daredevil's Ultimate version, which means that, unlike DC's expanding TV Universe, it ties directly into the Marvel films. The result of all this is a heavier focus on Fisk to disguise Daredevil's boring personality, and the Daredevil series itself becomes an inverted take on the previous Affleck infested joke, which placed Daredevil front and center and reduced Wilson Fisk to a cigar smoking stand-in that we knew nothing about. Is it any wonder we all hated it?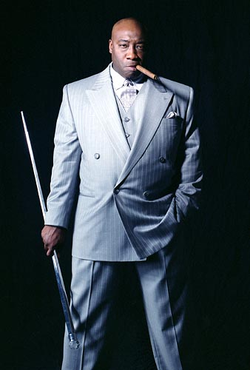 So, why should DC and Warner Bros be worried?
First and foremost, this latest version of Wilson Fisk is what DC has wanted and still wants Lex Luthor to be. The obvious similarities start with both being bald, but they expand when the viewer is witness to the latest version of Fisk describing his vision for Hell's Kitchen and how he thinks of himself as the good guy. As a lifelong DC fan, my heart almost jumped out of my skin. This live-action take is exactly what the DC Animated Universe did to Luthor with the debut of Superman: The Animated Series. Prior to this series, Lex Luthor was always either a scientist or a bumbling idiot trying to steal money or Superman's hair. Suddenly, Lex in the animated universe was a businessman, a smart one mind you, and he was the savior of Metropolis. All at once, Superman arrives and steals his thunder and begins to right Luthor's wrongs because of justice.
This is where Superman earns his nickname as The Boy Scout. Without him, Metropolis would be a thriving city of millionaires, albeit with some very sketchy undercover experiments going on. Still, the common population wouldn't know about them, and Luthor Corp would eventually rid itself of the ghetto and scum. Furthermore, DC usually adds Luthor to a Presidential election in every reality or Earth, and the Daredevil series also parallels this by having Fisk reveal himself as "The Savior of the City"- a presidential type persona, who wants everything to do with getting more money to rid his city of the ghetto and scum. This reason is exactly why Lex Luthor runs for office, and he later reveals that he just wants to annoy Superman. It's too bad that Wilson Fisk is also forced into this public role in the Netflix series just to keep the annoying Daredevil in-line because this may foreshadow what DC and Warner Bros are planning.
To have Eisenberg's Lex Luthor present himself as the savior of either Gotham or Metropolis or both would fit in with the newest Affleck version of Batman perfectly. There have already been rumors swirling of a female being cast as Robin, and we already know that Batman will "v" or fight Superman, which means that we're getting the putrid "I could break every bone in your body" Batman that was only relevant during The Dark Knight Returns comic arc. This Batman would gather media attention and put the fear into Gotham's underworld just as the Daredevil does for Hell's Kitchen in the Netflix series. In short, when we finally get Dawn of Justice, we may already be saying that we've seen it.
The Kingpin, Wilson Fisk, was Lex Luthor far before Jessie Eisenberg was cast as him. DC and Warner Bros better be planning something very, incredibly, and mind-dauntingly special because there's no evidence right now that Eisenberg has a hope in Hell's Kitchen of upstaging the far more seasoned and accomplished D'Onofrio. For DC fans, just thank your lucky stars that you have Batman's Arkham games (fingers crossed that Terri McGinnis is the infamous Arkham Knight! Thoughts?). For Marvel fans…
You win. You just win.