WASDuk brings you a large amount of coverage for your favorite DC/NetherRealms game. The primary reason is that the team strategies never stop evolving alongside new Challenge Stages each month and, also, the huge volume of fans that have made Injustice: Gods Among Us one of the greatest mobile games in recent memory deserve a voice. Thus, every Tuesday WASDuk's Chris Patton will bring you 3, or a trinity, composed of new or revolutionary tidbits of information about the superior iOS/Android version of Injustice.
3) Character News: The New 4 is led by MKX Scorpion!
It didn't take code-breakers and semi-hackers long to get the unreleased Injustice Challenge card-fighters into the Multi-Player arena. Player Joe Allen Krueger ran into a team of Static, Godfall Superman, and Animated Batman Beyond. Fortunately, his Red Son team took them down without breaking much of a sweat.
On the other hand, according to passive abilities and statistics, this latest round of card-fighters is clearly led by Mortal Kombat X Scorpion. His passive ability allows his Basic Combo to cause Fire Damage-Over-Time (DOT). Furthermore, a team with Zatanna, Scorpion, and Mortal Kombat X Scorpion would be the definition of a super-annoyer since each fighter uses DOT with either their individual passives or Specials. Finally, the latest Scorpion skin has one of the highest Damage stats in the game at 46,980. In short, he's a beast!
2) Team News: The Latest Update Provides Lots of Changes
The latest update to the mobile version of Injustice: Gods Among Us brings a hail of changes. New Most Wanted Booster packs offer the ever elusive Killing Joke Joker and Shazam, in addition to other random characters, for 600,000 power credits. The Gear Locker pack offers 3 pieces of Gear for 65,000 credits, and other random characters according to their themes are available in the Femme Fatale, Justice League, and Batman Arkham packs.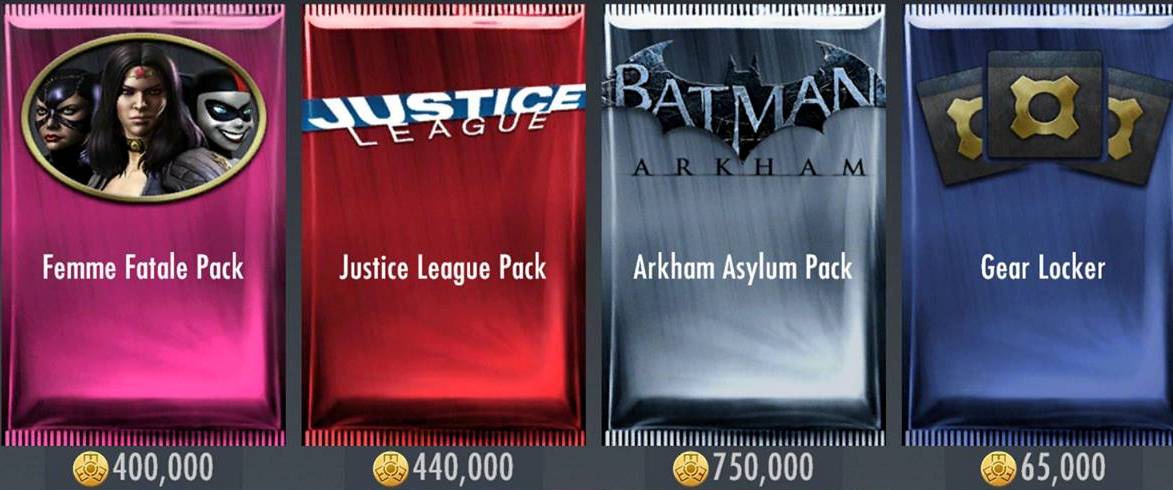 Speaking of the Joker, Arkham Harley Quinn has had her stats and passive upgraded. She now matches Hawkgirl's prowess and her passive Play Doctor ability not only adds 25% to Total Health, but it now also gives any Arkham characters on her team the chance that their Special 2 will be unblockable.
Yes, you read that right. Arkham Origins Deathstroke can make his first Special unblockable with his passive, but now his unbelievably brutal second Special also has a chance to be unblockable. Most players had replaced Arkham Harley on teams with Krypto Lex Luthor, who offers a higher boost to his team's Total Health, but Arkham Harley will be showing up much more frequently now that she has a clearly defined role.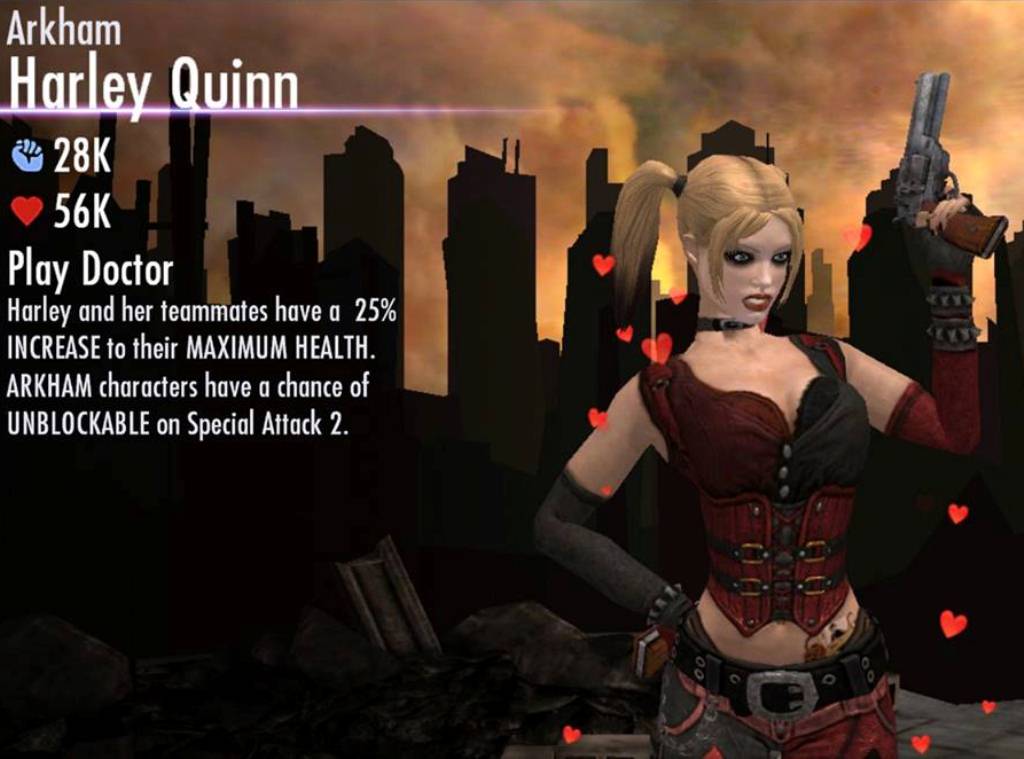 In addition to the ladder changes, Lex Luthor's suit has more definition and glowing red lines along his armor, Batman Beyond uses his own unique Batarangs and Batmobile during his Unblockable attack, and Ra's Al Ghul's scimitar Gear will add one bar of Power to whoever yields it, which evens out Batgirl's passive a little more.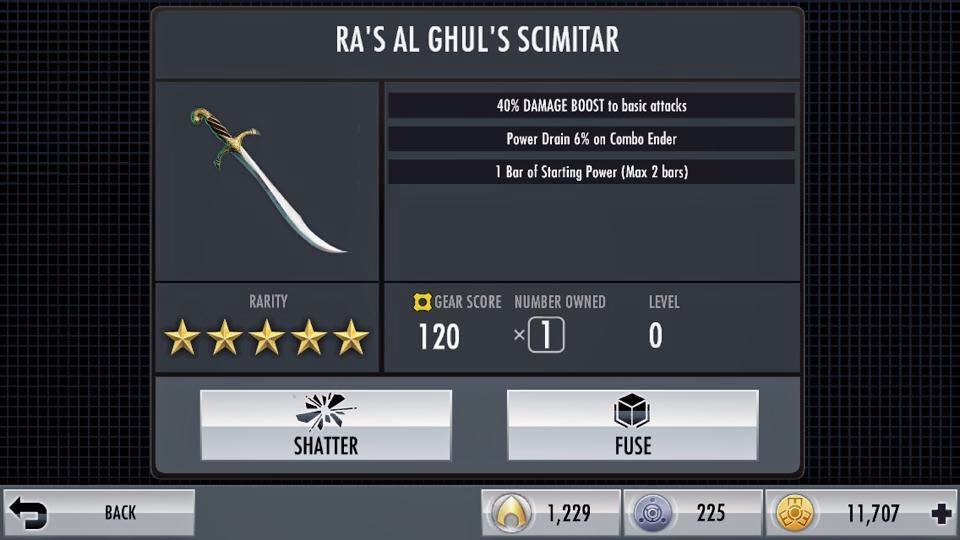 1) What about the rest of the New Challenge Characters? How do we rank them?
When ranking the upcoming card-fighters. The least impressive is Godfall Superman. He's essentially Silver Green Arrow, who also reflects Basic Damage back at his foes. Similarly, Power of Kandor gives the same ability to Godfall Supes, but the little damage he reflects won't be a game-changer of any kind. Like all new cards, his second Special is devastating, but surrounding him with health or power boosting cards is a waste with the likes of the superior Killer Frost, Raven, or any Arkham Origins fighter being available. Thank all that's holy that we have Red Son Superman! Geez.
Coming in third place is the Animated version of Batman Beyond. Let's be honest, any passive is better than the flawed abilities and uselessness of the first Batman Beyond skin, but his random, minor boosts from the Winning Edge passive aren't useful enough to make him a main man.
Moreover, while his stats are more impressive than fellow Animated alum Harley Quinn's, he would have to be flanked by power generators (Red Son Wonder Woman, etc.) who would better serve Red Son teams or strong Femme Fatale teams, such as Red Son Wonder Woman, 600 Wonder Woman, and the latest Raven skin or Killer Frost, to be effective.
Static is going to hurt teams that rely on Specials, which is basically all of them, because his Aftershock passive makes him both immune to power drains as well as being able to turn blocked Special attacks into power. As a result, he's essentially a combination of Regime Wonder Woman and Lobo.
Thus, he's more useful than Godfall Superman and Animated Batman Beyond combined. At times, his ability will be able to turn the tides of matches and he can counter the usefulness of New 52 Nightwing and Arrow Green Arrow's annoying power drain abilities. Overall, Static is a welcome and unique addition to the game and his role as a counter-measure is a huge plus.
The best card, as we wrote about at the opening of this week's Trinity, is none other than MKX Scorpion! NetherRealm's has developed a nice little pattern of "Fire" passives for his skins, and his Reborn Spectre allows any Special that reaches 200% the ability to cause critical DOT as well as to add 8% Health per promotion.
Damn.
To close out this edition, it's important for eager, new players to note the following characters that are pictured below were uncovered between November 2013 and the present. We will get them eventually. It's not a question of "if" so much as a question of "when". WHEN?!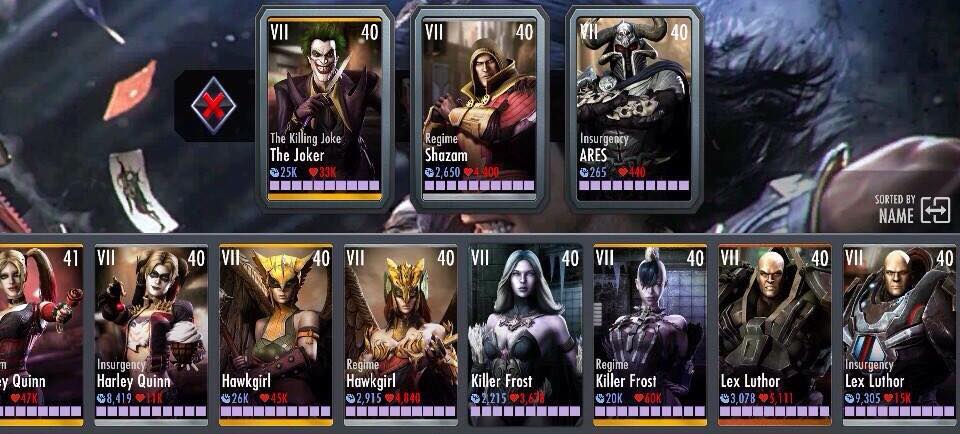 Chris Patton provides unparalleled coverage of iOS/Android Injustice: Gods Among Us. To read more articles about Injustice strategies, such as counting down who the best card-fighters in the game are, click here. Have a tip? Email him at wasduk@mail.com, leave a message below, or troll him on Facebook.