In the 80's and early 90's, certain school-cliques gravitated towards each other based purely on musical tastes. There were the Headbangers, the Country Folk, a weird annual outbreak of flavor of the week aficionados that would summon putrid demons from the bowels of hell, like New Kids on the Block, Milli Vanilli, or Rick Astley, and even posers who claimed that they loved rap and hip-hop, but only knew the lyrics to Vanilla Ice and MC Hammer tunes.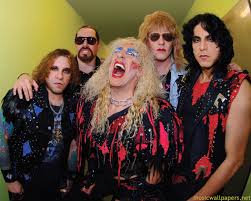 In remote basements throughout Milwaukee and Mylton Keynes, we're sure that these cliques still frequent Facebook and Skype to reminisce about the good ol' days, but that doesn't mean you have to search for them out of either curiosity or a knife being placed in your back because you're "NOT FROM AROUND THESE PARTS, BOY!" (Translated to British: Right, chin-chin and a hardy 'Guru-hurr-gurhrar.')
Thank all that's holy, that WASDuk is hear to offer 10 perfect Poptronica (Pop + Electronic musical stylistics) songs that are guaranteed to make your gaming experiences better. Are you tired of listening to the Joker say, "I hit because I love"? Is that old-school "Jingle Jangle" song from Fallout wearing you down? Then, don't be a whiny little individual clique. Listen to these no matter what you're playing and your life will be different!
Now, in no particular order…
10. Playgirl by Ladytron (2001)
Once this 2001 revival of all things Human League started popping up on MTV shows like The Real World, Ladytron were thrust into American laps. Since then, they've toured with Nine Inch Nails and a variety of others to show-off their minimalist musical style, which is highlighted by diverse, introspective lyrics.
Best lyrics from Playgirl:
Foreign coin on a telephone box
A question mark on a calendar
An empty seat on the alpha line 
A sorting code, an account number

Hey playgirl, hey playgirl 
Northern lights catch you coming down
Sleep your way out of your hometown 
9. Baptism by Crystal Castles (2010)
Ethan Kath recorded most of the music for Crystal Castle's second album in an abandoned church in Iceland with no heating. He produced 70 tracks, sent a CD-R to lead vocalist Alice Glass, and let her go to work. The result was an eerie dance hall showdown that could serenade a haunted house. Of the brilliant tracks on the album, the high-energy Baptism stood out as an astral sign of all things pop, electronic and punk to come.
Best Lyrics from Baptism:
Hold my head under the water
Take a breath for the Father
Learn to love, lessons repeating
The chronicles are so misleading
This is your baptism
And you can't forgive 'em
This is your baptism
And you can't forgive 'em
8. 6 Underground by Sneaker Pimps (1996)
The Sneaker Pimps showed up way too early to the party. Their progressive attitude and kooky hi-fi sampling found homes on both 90's pop radio as well as on all alternative rock stations throughout Earth. This was not an overnight sensation though. At the time, their lead vocalist, Kelli Dayton, had recorded the vocals for the track inside their flat's closet. Then, she dawned vampire teeth and frolicked about a dentist-chair in the music video. It wasn't scary, it wasn't pretty, but we haven't heard much like it since, and it took a love scene from Val Kilmer's The Saint to get it into American ears.
Best Lyrics from 6 Underground:
Talk me down
Safe and sound, 
Too strung up to sleep
Wear me out
Scream and shout 
Swear my time's never cheap 
I fake my life like I've lived 
Too much, 
I take whatever you're given; not enough.
7. Juanita : Kiteless : To Dream of Love by Underworld (1996)
Underworld formed in Cardiff in 1980 and have set the tone for non-stop rave and poptronica music ever since. Danny Boyle's Trainspotting used snippets of their tracks throughout the film, though none of their efforts have sounded as catch-worthy or as gorgeous as 1996's Second Toughest in the Infants. Radio wasn't sure what to do with their boisterous 12 minute tracks; however, this didn't stop the actual underworld of music fanatics from finding them and dropping acid while wearing Storm-Trooper helmets at the local club. "Choose life!"
Best Lyrics from Juanita : Kiteless : To Dream of Love
Outside your window bootleg babies call to you and lie among the mosquitoes. 
That summer's fever coming. 
Cats are gathering outside your window. 
Homeless trees. 
Bootleg babies calling to you. 
Lie among. 
Lie among the mosquitoes. 
Your rails. 
You're thin. 
Your thin paper wings. 
Get up in your sun. 
6. Burn Hollywood Burn by Public Enemy (1989)
When Chuck D went to the top of the mountain to describe Hollywood's bullshit treatment of African American thespians, he declared that it would "take a black one to move me." From there, a young Ice Cube, Big Daddy Kane and the eternally over-the-top Flavor Flav helped add even more red-faced rage towards the revolution that needed their meaningful, yet crow-bar like aggression to make rap and hip-hop a deep movement. Today, in 2014, nobody gets toxic-dance sermons like this. Nobody.
Best Lyrics from Burn Hollywood Burn:
Many intelligent Black men seemed to look uncivilized
When on the screen
Like a guess I figure you to play some jigaboo
On the plantation, what else can a nigger do
And Black women in this profession
As for playin' a lawyer, out of the question
For what they play Aunt Jemima is the perfect term
Even if now she got a perm
So let's make our own movies like Spike Lee
Cause the roles being offered don't strike me
There's nothing that the Black man could use to earn
Burn Hollywood burn
5. Road to Recovery by Midnight Juggernauts (2007)
To describe Melbourne's Midnight Juggernauts as anything less than a glam-rocking foray through the looking glass of turn-tables would be a crime. Road to Recovery is a complete overdose of the minimalist persuasion, and it's the one track on this list that can be forgiven for having virtually no meaningful lyrics. It remains one of the best dance tracks of the past decade. Too bad not many heard it.
Best Lyrics from Road to Recovery:
Laugh as we run from the world we once knew
Songs we once sung, they will come back to you
Wait for the sun as it comes into view
Path to discovery
Road to recovery
4. Rapture by Blondie (1981)
Blondie was part of the most important punk revolution. Then, they did their best disco impersonation with Heart of Glass in order to pay their bills. That, perhaps, remains Blondie's most beloved song, though the immortal Rapture took 1981 by the throat with its bizarre pre-Pixies lyrics of cannibalistic alien life in New York over rap, rock, and raggae inspired beats.
Best Lyrics from Rapture:
Fab Five Freddie told me everybody's fly
DJ's spinning I said my, my 
Flash is fast, Flash is cool
Francois sais pas, Flashe no deux
And you don't stop, sure shot
Go out to the parking lot
And you get in your car and you drive real far
And you drive all night and then you see a light
And it comes right down and lands on the ground
And out comes a man from Mars
And you try to run but he's got a gun
And he shoots you dead and he eats your head
And then you're in the man from Mars
You go out at night, eatin' cars
You eat Cadillacs, Lincolns too
Mercuries and Subarus
3. Aisha by Death in Vegas (1999)
This could have easily been Hands Around My Throat or Dirt, but listening to Iggy Pop read guest passages about how a serial killer views a mysterious girl named Aisha is too disturbingly catchy to resist. At one point, the Stooges front man begins to groan and then barks that the gods all suck. Even if one ignores the diatribes of mental insanity, there's still one of the best guitar sampled hooks of any song ever, which forces most people who hear it to ask, "Who is this, and how come I've never heard it before?"
Best Lyrics from Aisha:
I have a portrait on my wall 
He's a serial killer 
I thought he wouldn't escape 
Aisha 
He got out 

We live in a cemetary 
A cold and damp place 
And science runs through us 
Making us Gods 

The rules are all Wrong 
Every perversion is justified 
They honestly believe dead bodies 
Anything goes around here 
2. Horse Pills by Dandy Warhols (2000)
The Dandy Warhols have selective moments where they met their industry-inspired expectations. We Used to be Friends introduced every episode of Veronica Mars and 13 Tales from Urban Bohemia was one of the best pop-rock albums of the 2000's. With Horse Pills, the Warhols sang about every cougar in Los Angeles and how their boy-toys had to wear bikinis. The music video for the track, like everything the Warhols have done, is utterly stupid, but it's dead-pan "yeah boy" shouts and distorted guitars make the keyboards of central California sound like the ideal situation in hell.
Best Lyrics from Horse Pills:
Butt's getting bigger, Do you think he'll notice, maybe?
That's okay. Don't worry 'bout it baby.
'Cause everybody knows he pumps you for your money.
That's all right, don't worry 'bout it honey.
In your Itsy-Bitsy Teeny-Weenie Riding-Up-Your-Butt bikini,
Keeping on the heels, cause you're sagging just a teeny
Bit more then the girls he pretends he doesn't thrill
Rubbing on the lotion and rocking on the horse-sized pills
1. C.Y.O.A by HEARTSREVOLUTION (2007)
HEARTSREVOLUTION erupted onto the music scene in New York and Japan with an outburst that sounded like dynamite being farted through the backside of a tuba. Yes, they love their noise; however, it was controlled noise like the Buzz Cocks, and with a sonic-punk presence that sounded like everything the Crystal Method and Chemical Brothers always wanted to be. Then, there's the MMORPG inspired lyrics…
Best Lyrics from C.Y.O.A:
Foxes and Bunnies
Fire and Snow
We're all just lost,
don't know which way to go.