Yesterday, WASDuk covered an unconfirmed rumor regarding the possibility of Atrocitus making his debut as the second unique Injustice mobile 2.0 card-fighter. However, the article attracted a slurry of responses that prompted WASDuk to issue the following picture with the hashtag #WTFnetherrealms: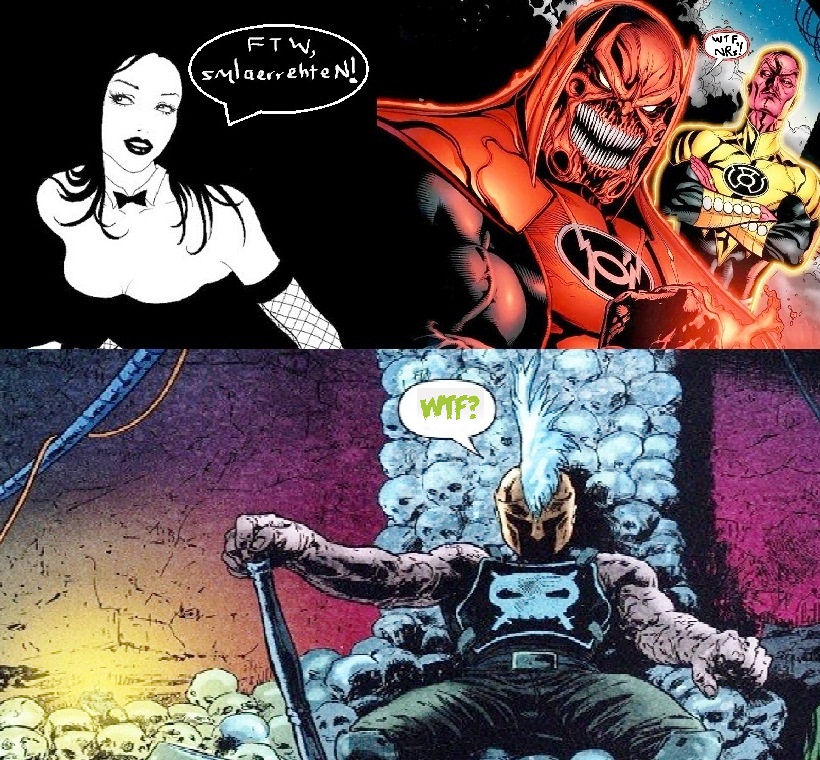 Evidently, nobody really knows what will happen. As of it being Friday over here in the Asia-division of WASDuk, no new Challenge Stage or update has been offered by NetherRealms. Thus, WTF? Regardless, here is what's floating around the e-universe.
1) Redson Deathstroke or Wonder Woman 600 Will Repeat
While "newbs" may love this scenario, it also begs the question as to why a Challenge Pack was released. Granted, a number of packs costing 150,000 credits each would have to be purchased to get any Challenge Stage card-fighter to Elite VII, but most grinders and hackers don't really care, as it gives the game its own unique missions: Challenge Packs until every card-fighter contained is Elite VII.
2) A Slew of New Characters
The most favorable scenario thus far has come from the mysterious user known as Thanos:
"Android update will be released alongside with the iOS 2.1 update. With 5 new challenge characters, multiplayer bug fixes, and lose data bug fix. Probably after this Darkseid Challenge. AND, the new Challenges will probably be Ares, a new skin for Shazam, Killer Frost, Zatanna and another skin for Joker or Superman. This information came out on Injustice: iOS Alliance Credits Facebook page, it was posted by a guy who works at NetherRealms. You'll get your update this month!"
Guys from NetherRealms, whoever they may or may not be, is hit and miss at best. Shazam was announced by such an individual months ago, but he never appeared until the mobile 2.0 update. Undoubtedly, such a huge update would feed the salivating non-hackers and fans out there, but whether or not such a huge offering is on the horizon is still unconfirmed. Information from the Facebook page Injustice IOS Alliance Credits has always been reliable, as some of the most skilled Injustice players and theorists on Earth are members. At this point though, we'll believe it when we see it because NetherRealms have changed their plans at the last second before.
3) Atrocitus!
This is the least likely of the possibilities for the next Challenge Stage. Obviously, adding Atrocitus would send shock-waves of excitement through both the DC Universe and DC's kingdom of fans. However, at best, we won't see such a occurance until 2016, which is when the sequel to Injustice: Gods Among Us will launch.
Again, WTF, NetherRealms? Ares, Zatanna- Look, just give us something new. Otherwise, the Android users will remain devastated and longing for the new multi-player update, hackers will continue to occupy the online arena with level 2 Gold Cards armed with hacked Gear that gives "x 2,000,000%" to basic damage, and non-hackers who find any rumor better and more interesting than anything NetherRealms can offer may just walk away.