An unconfirmed rumor has begun to circulate heavily around the Injustice: Gods Among Us online communities. The rumor suggests that tomorrow's Challenge Stage will reveal Atrocitus as the 2nd unique card-fighter for the mobile version of the popular card-fighting game. Like Darkseid, Atrocitus would not be available in the non-mobile versions of Injustice.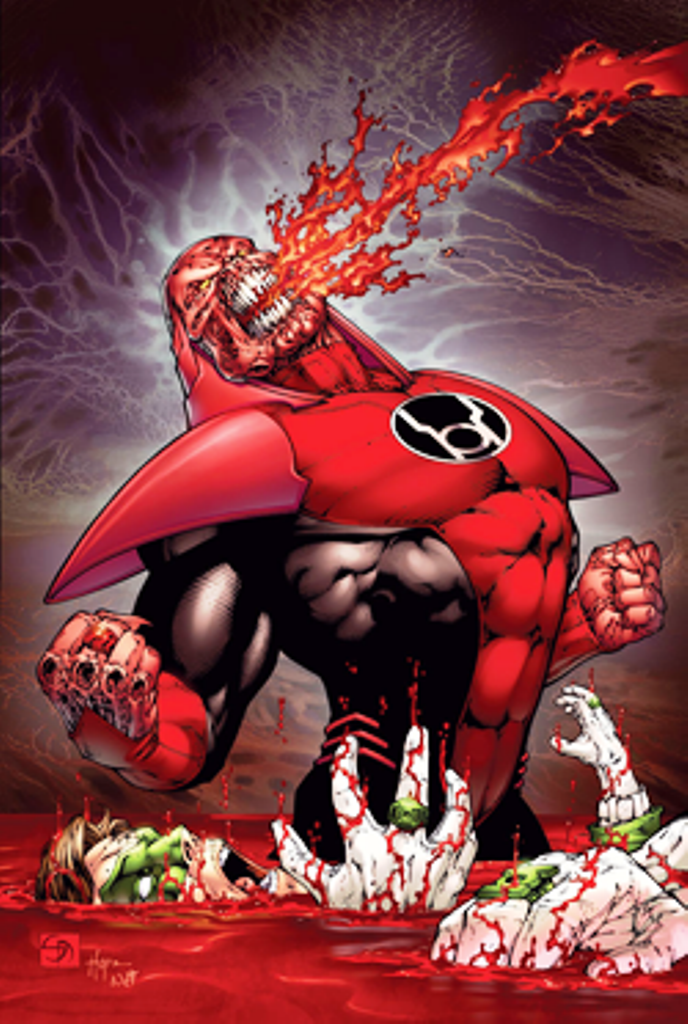 Regardless, a large number of avid fans voiced huge disappointment in seeing the Darkseid Challenge Stage repeated earlier this month. Message boards on popular websites like IGN were divided with many claiming that the mobile version of the game was over, while others saw the recycled Darkseid Challenge Stage as yet another example of how disorganized NetherRealms has been in handling the unexpected fanfare generated by the mobile brawler.
On the one hand, a number of new characters and skins, like Shazam and New 52 Nightwing, have added new team theories to the mobile game. In addition, new items that add huge bonuses to every character, called Gear, has also generated a gi-normous amount of positive buzz.
However, on the other hand, the new online multiplayer system has been infested with hacked Gear that can allow trolls the ability to take on fully leveled Gold card-fighting teams with low-level characters. In addition, many non-hackers have been banned from playing online without explanation, and the resentment has been festering.
Such resentment seems to be able to be somewhat bypassed by offering new characters though. As long as tomorrow's Challenge Stage does not repeat, then the fans and players may forgive NetherRealms and see their glass as half-full. If mobile Injustice 2.0 can't offer new skins or new card-fighters, like Atrocitus, then NetherRealms will run the risk of further alienating fans, which, let's be honest, would be rather "Nintendo" of them.
Finally, for those coming in late, Atrocitus is the leader of the Red Lanterns, whose powers flow from the emotion of rage. Geoff Johns and Ethan Van Sciver created Atrocitus and revealed him in volume 4 of the Green Lantern comics, where he was introduced as a prisoner of Abin Sur. The Red Lanterns are heavily influenced by the zombie-like victims of Danny Boyle's 28 Days Later, which centered on a "Rage Virus" destroying nearly all of England. Consequently, the Red Lanterns cannot be reasoned with and can often be seen spitting up blood-manifestations to kill their prey.
Will you let rage consume you if the Challenge Stage repeats tomorrow, or will you bask in the glory of Atrcoitus's glorious hatred?