The Containment Doomsday Challenge Stage was not nearly as difficult as 600 Wonder Woman's, but the latest unique card-fighter did not disappoint. Containment Doomsday must be knocked out 4 times and can, therefore, be a huge power bar drainer to face-off against in both multiplayer rounds as well as the new single-player stage.
Before last week's update, WASDuk highlighted a great team for Containment Doomsday here. Unfortunately, Zod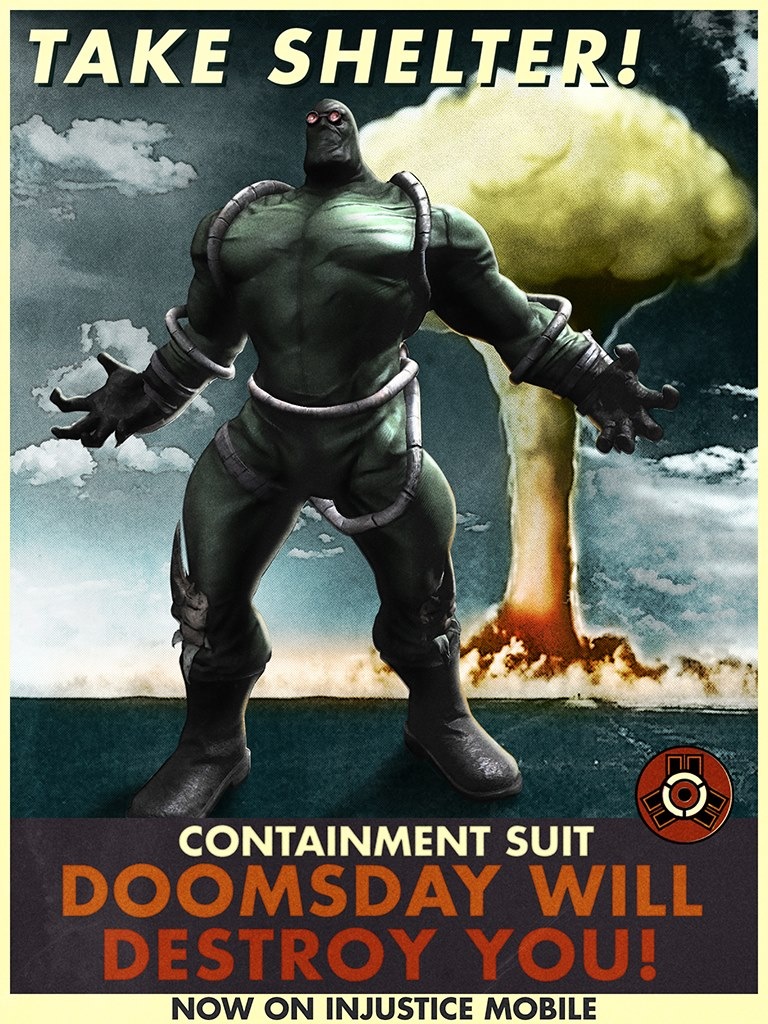 doesn't seem to be his former self. Regardless, pairing Containment Doomsday with the Killing Joke Joker and another power generator like Animated Harley Quinn or Red Son Wonder Woman can prove just as effective. The theory for such a pairing requires one to begin a match with Doomsday as the first fighter in. Fight with him until he can execute an UNBLOCKABLE, tag in Killing Joke Joker to sacrifice, and finally unleash the remaining team members UNBLOCKABLEs to finish off the foes. If one does choose to add Animated Harley Quinn to the team, then she will boost the Killing Joke Joker's damage and power generation by 40%.
However, with only 2 Days remaining for Doomsday's Challenge, most players are eagerly anticipating the next: Boss Solomon Grundy. Will he be born on Monday, as his origin suggests?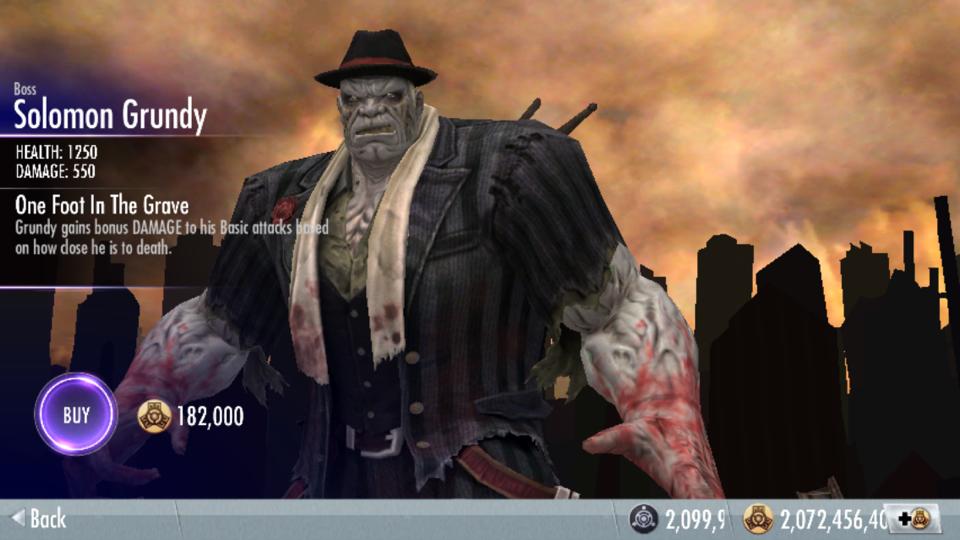 Boss Solomon Grundy's passive ability, One Foot in the Grave, gives boosts to his damage. The extra damage is in direct contrast to how much life he loses. As a result, many players have already presented the theory that he would be an excellent team member alongside John Stewart Green Lantern. The primary reason is that if Grundy's health is depleted, then he will get John Stewart's Emergency Barrier to preserve his life as well as to allow him to land some huge, damaging blows before he tags out.
This begs the question of which card-fighters players will need to complete the upcoming Challenge Stage. Look over the list below. Are you prepared, League members?
Battle 1: Only Bronze Characters Must Be On Your Team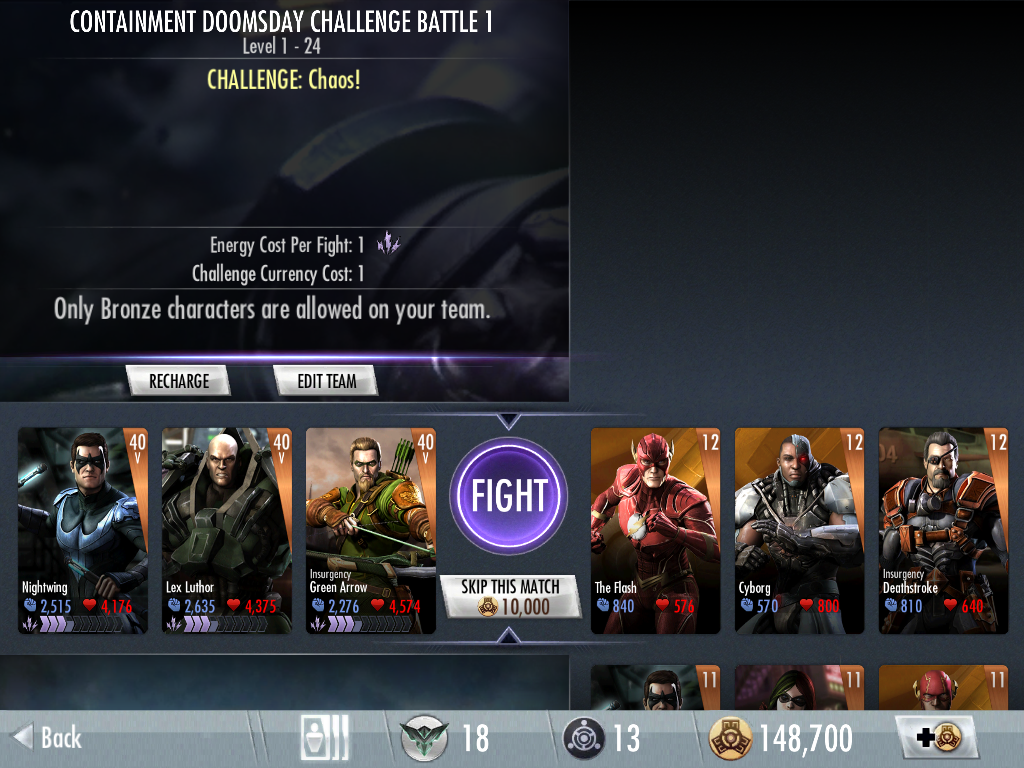 Suggested Team: Deathstroke / Lex Luthor / New 52 The Flash
The above team begins with Deathstroke, who has one of the highest statistical damage of any Bronze card-fighter. Lex Luthor adds a whopping 15% to damage and New 52 The Flash adds 5% to individual power generation, so that you can unleash his special moves more quickly. If those cards are not all in your deck, then consider the above team from the screen-shot: Nightwing, Lex Luthor, and Insurgency Green Arrow. Nightwing will take 25% less damage from basic attacks and Lex and Ollie will add a combined 20% to damage.
Battle 2: Deathstroke or Insurgency Deathstroke (NOT Red Son) Must Be On Your Team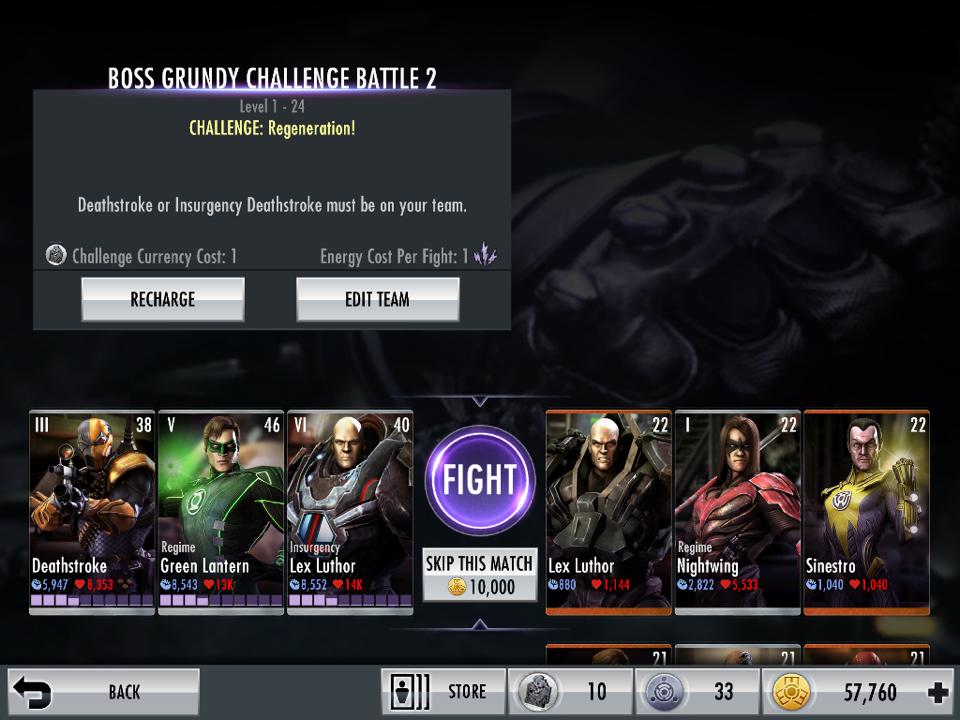 *Suggested Silver Team: Silver Deathstroke / Regime Green Lantern / Silver Lex Luthor OR Regime Flash
Silver Deathstroke will get you more damage and longevity than his Bronze counterpart. However, Battles 2 and 3 overlap in terms of requiring Silver characters of some sort. Read the summary of Battle 3 below to grasp what this Silver team offers.
*On the other hand, once the ease of the first play through has finished, it's best to flank Deathstroke with a two-person team of heavy-hitters: 600 Wonder Woman and Animated Harley Quinn, Arkham Origins Batman and Batgirl, Doomsday and Red Son Wonder Woman, etc.
Battle 3:Only Bronze Or Silver Characters Must Be On Your Team
Suggested Team: Silver Wonder Woman / Regime Green Lantern / Silver Lex Luthor OR Regime Flash
Regime Green Lantern adds 25% to power generation, while either Silver Lex Luthor adds 25% to health or Regime Flash adds 15% to speed. Team any of those characters with Silver Wonder Woman, who generates damage bonuses to special attacks for blocking attacks, and the competition won't stand a chance. If players want an even higher amount of damage, then add Silver Harley Quinn to the mix for an extra 10% to damage.
Battle 4: Green Lantern Must Be On Your Team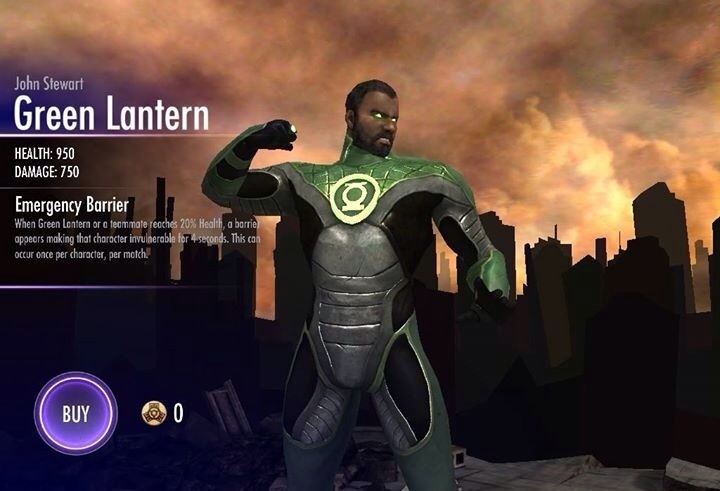 Suggested Team: Teen Titans Cyborg, New 52 Nightwing, John Stewart's Green Lantern
Begin the match with Teen Titans Cyborg. The goal for Cyborg is to get one UNBLOCKABLE attack in. Continue fighting with him until his health drops enough to activate John Stewart Green Lantern's Emergency Barrier. While Cyborg is invincible, get in a few extra strikes to generate a little power, and then tag in New 52 Nightwing. The tag-in will activate New 52 Nightwing's passive ability, and Teen Titans Cyborg will begin using his Reconstruction to restore his health.
While Teen Titans Cyborg is healing, fight craftily with Nightwing so as to buy as much time as possible for your team members. Ideally, John Stewart Green Lantern can save up enough power bars to deal an UNBLOCKABLE for later (if needed) while Cyborg gets back to 100% health. If Nightwing is over-matched, then Green Lantern's passive ability will give him invincibility so that he can leave the match safely. In this situation, John Stewart will need to enter the ring and buy more time for Cyborg's health regeneration.
Overall, this team contingently allows players to use "four" fighters, as Cyborg's healing factor can potentially restore him to full power again. If used properly, this team should at least get two UNBLOCKABLE's from Cyborg, one from Nightwing, and one from John Stewart Green Lantern. Finally, players should be very keen to notice that each fighter on this team can only use John Stewart's Emergency Barrier once. But, synergy!
Battle 5: Solomon Grundy Must Be On Your Team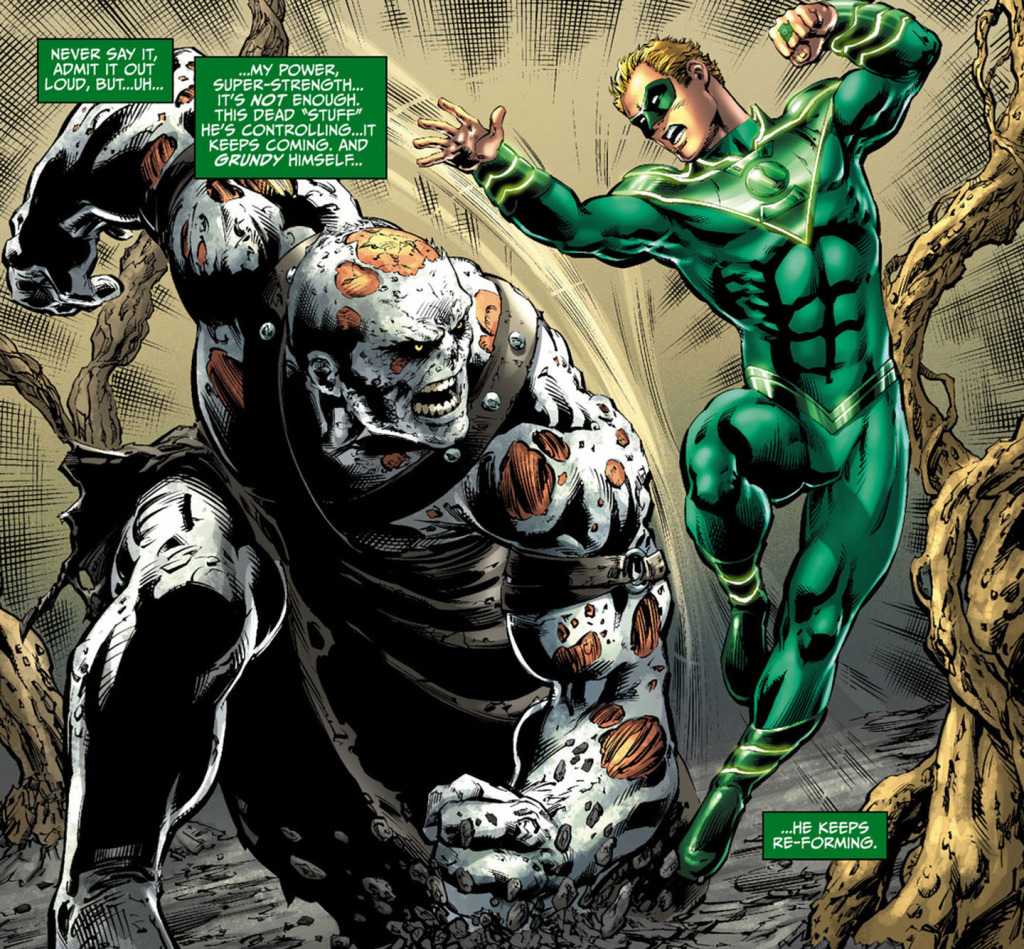 Suggested Team: Red Son Deathstroke / Red Son Superman / Red Son Solomon Grundy
This is the old-school favorite, as Red Son Deathstroke adds 15% to speed, Comrade Kent adds 75% to basic damage, and one can fill in the last roster spot with either 45% to health from Grundy or 45% to power generation from Diana. This team offers huge statistical bonuses, even without Gear. This team can easily steamroll through the first play-through of the Challenge Stage, though the Nightmare rounds may require you to change things up.
Again, are you ready to face the undead?