As riots break out regarding change, which evidently all Injustice Mobile 2.0 players fear, the new Gear that characters can be equipped with offers major boosts. This is good news in light of a few select card-fighters that have been downgraded, such as Regime Wonder Woman and Challenge Stage Aquaman. Regime Wonder Woman no longer gets 5% power generation for every blocked attack. Her altered passive now awards much less. Similarly, Aquaman has had his damage reduced and his overall attacks are now far weaker than they were before the update. Feel free to add Regime Superman's heat vision as well as a host of other unannounced changes that DC/NetherRealms foolishly failed to reveal.
However, our ally, Matthew John COmaha spent most of the night swiping away and collecting gear to show how it can make-up for the latter shortcomings, or for other weaknesses that unaltered characters have. Before we get to Gear though, let's take a look at the long awaited Shazam card. Shazam is available in booster packs, so if players have grinded enough credits, then they can acquire him, as evidenced below.
Even if millions of multiplayers place Shazam on their teams, it doesn't mean that every Shazam card will have the same results. Note that Matthew John COmaha has equipped his Shazam character with three pieces of Gear. Gear can be obtained in either a booster pack or through multiplayer battles. With the right Gear, Shazam can become truly a nightmarish god. Check out the effects of his Gear in the following screens.
In equipping such Gear, Shazam now has an 18% power generation boost and his level 1 special attack can damage every foe on his opponent's team. Therefore, characters like Regime Superman, whose heat vision has been reduced in damage but still block breaks, can make-up for his new shortcomings via Gear.
Furthermore, some Gear is specialized for specific card-fighters (NOTE: all gear can be worn by anybody, but specialized GEar only gives secondary bonuses to the characters they were designed for), while other Gear, such as the Demonic Mask (pictured above), can be used by anybody. The latest skin for Lex Luthor, known as Krypto Lex Luthor, has a passive ability that adds 30% to total team health. Such an ability already makes him a valuable team member, but if one adds the following items, then look out.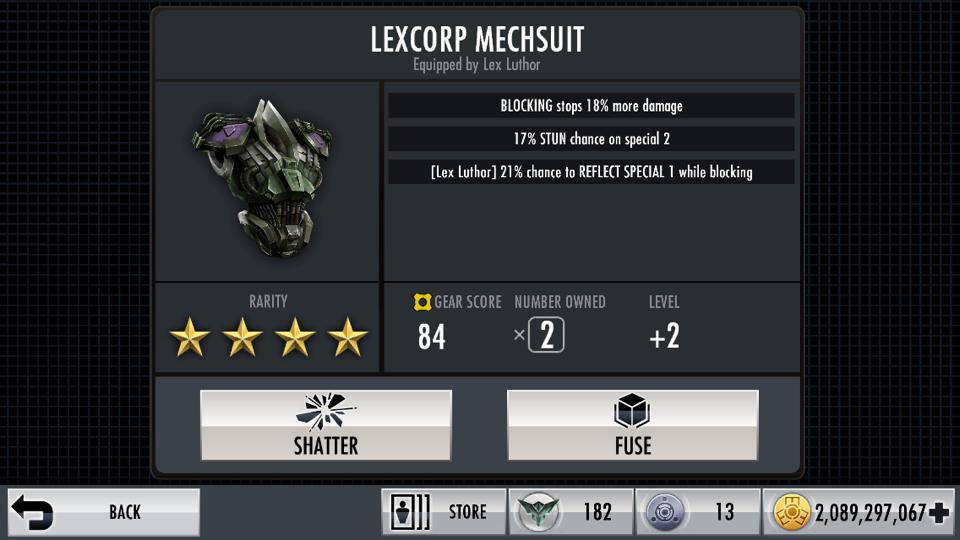 After perusing Lex's Gear, one should note that he now offers his team a 30% health boost, a 30% boost to his basic attacks, and he can even stun. As a result, a Gear-ed up Krypto Lex is far more superior than a standard un-Gear-ed Lex.
The primary advantage of such boosts and bonuses is that non-hackers will easily spend less time when grinding credits. Now that characters can be leveled to Elite VII and level 50, spending hours slowly grinding is tantamount to torture. In that respect, hackers clearly have the right idea. WASDuk isn't knocking hard-work, but we are pointing out that leveling up a Red Son team to Elite VII now costs 2,800,000 credits, and that's without the extra credits that Gear and the slots for said Gear cost.
The other benefit of these items is that DC/NetherRealms have essentially taken items usually offered in a MMORPG, like World of Warcraft or Diablo III, and added them to a fighting platform. In doing so, keen players must now carefully choose what disadvantages each player needs covered as well as what team advantages can be useful in defeating others. For instance, New 52 Nightwing's passive ability adds a short burst of heightened damage when he is first tagged in, but that damage vanishes after 3 seconds. To address this deficiency, consider the following Gear: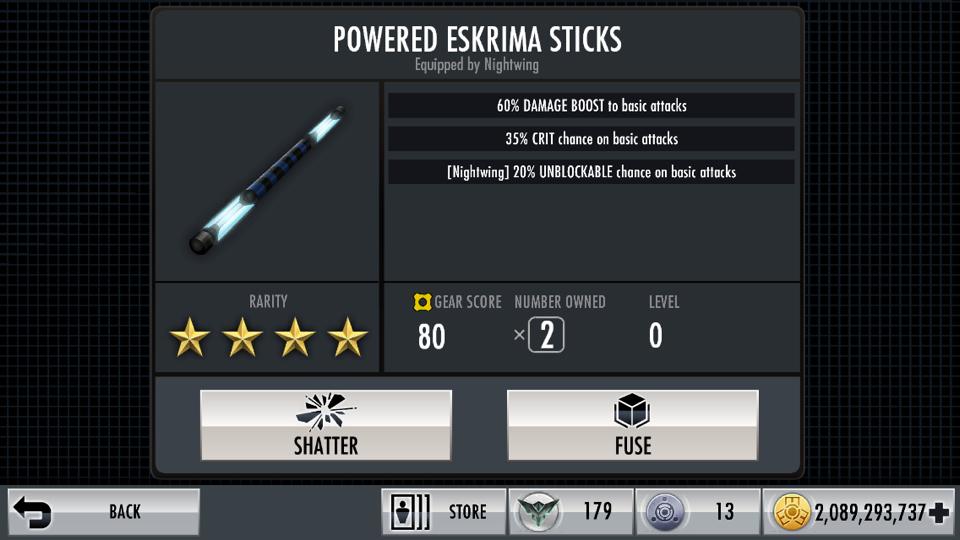 New 52 Nightwing, as shown in the above screen, is now dealing over 1,000 in damage with each basic attack to Animated Harley. This is the result of using maxed out Powered Eskrima Sticks.
This Gear is currently creating such a buzz that various lists of all the gear acquired by different gamers is being collected by both Facebook groups and Injustice Mobile 2.0 message boards alike. Last, players should note that Gear does not change the appearance of fighters, though it does add huge statistical benefits.
Is such Gear and potential boosts enough to bring players back from the frustrating bugs of the initial launch of Injustice Mobile 2.0? We'll have to wait and see what your thoughts are in the comments.