Yesterday, the official Injustice Facebook page broke the news that Multiplayer features would finally become a real Injustice Mobile option. Today, that news is followed up by a roster of new character skins from DC's multiverse:  Animated Harley Quinn (Batman: TAS), Sinestro (Green Lantern), New 52 Nightwing, Green Arrow (Arrow TV Show), Catwoman (Batman Returns), Cyborg (New Teen Titans), and Lex Luthor (Kryptonite Suit).
Check out the official announcement below:
Furthermore, three screens of the yet to be released Sinestro (Green Lantern), Harley Quinn (Batman: TAS) and Catwoman (Batman Returns) have been leaked. The most dominate of the card-fighters to surface thus far is clearly the new Harley Quinn though. Her Deranged Cheerleader ability adds huge bonuses to any team, but can also make every Joker card-fighter rather god-like.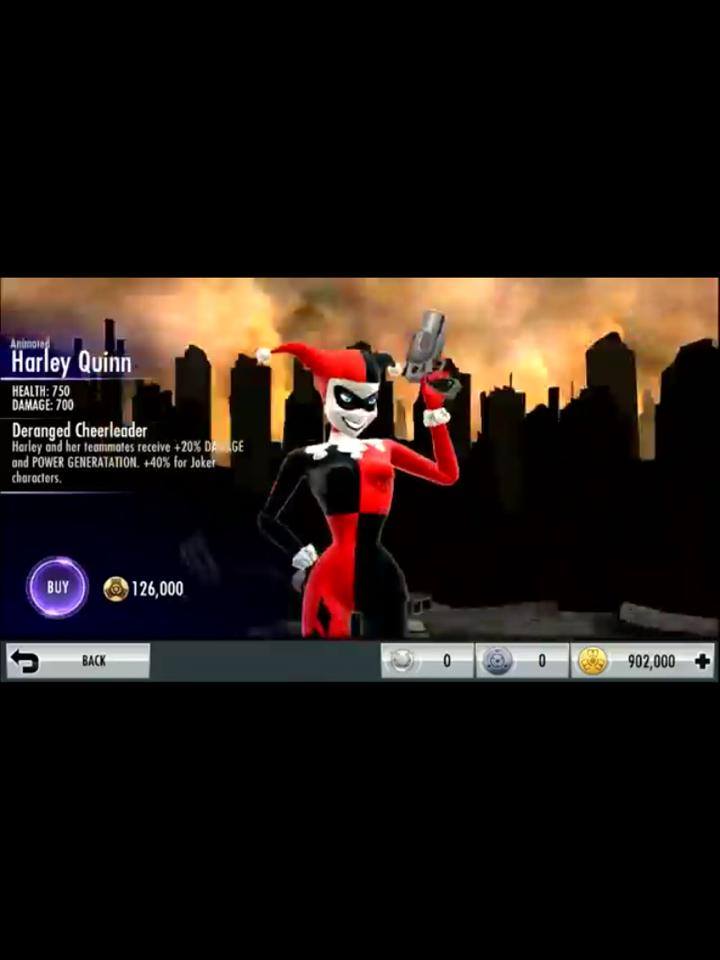 A Joker with a 40% boost to both damage (NOT unblockable or special damage, only normal damage) and power generation is now more than a handful. If one were to add a Bronze Harley Quinn to that team, then the Joker would get a whopping 65% boost (40% from BATS Harley and 25% from Bronze Harley) to his overall normal damage (NOT special or unblockable damage). Keep in mind that the Red Sons, when teamed together, receive a 75% damage boost from Red Son Superman, so the Clown Prince of Crime is only a little less bonus-ful than him in terms of knife swipe-ability.
Also, when Injustice Mobile was first released last year, the Joker was seen as an effective fighter with a broad array of short and long ranged attacks. However, once new, more dominant card-fighters like Arkham Origins Batman became available, the Joker fell off the radar. Undoubtedly, he's back with a vengeance!
Even those who want to get Harley away from their abusive relationship will find her power generation ability a huge game-changer for any team, as she can allow characters to deal multiple unblockables before they are knocked out.
Other characters who deal long-term damage, like Martian Manhunter, Scorpion and Catwoman, would be wisely teamed with the new Catwoman skin. Her passive Deadly Games ability adds 100% total damge to bleeding, burning, and mental damage effects. Last, the latest Sinestro skin will make tagging in and out a careful chore to contemplate. His Fear Attack will add 50% damage to special or super attacks every time someone tags out against him.
Overall, the Injustice Mobile community has been puzzling over what to make of the new Multiplayer options. Would noobs and hackers ruin it by using the standard Regime Wonder Woman and Arkham Origins Batman teams? Would Darkseid's mirror-match glitch carry over to the Multiplayer arena? Now that these new game-changers have surfaced, there are a lot more teams to consider. As screens of the other characters, like New 52 Nightwing, are revealed WASDuk will keep you posted!