When WASDuk was created, the basic principle that all of the writers had in mind was to give a voice to the little-people. Thus, we commonly scour independent developers as well as Facebook users and others, because these are the backbone of the new gaming industry.
When WASDuk broke the story about multiplayer features coming to the iOS/Android version of Injustice: Gods Among Us, it was followed by the first screen shots on the web of Darkseid, Containment Doomsday, 600 Wonder Woman, and Boss Solomon Grundy. These were not provided by DC/NetherRealms, but rather by hackers. They did the marketing work for DC/NetherRealms. Regardless, WASDuk got hundreds of emails claiming that Darkseid was a joke, and that mobile players would never be rewarded while the console players were "disregarded."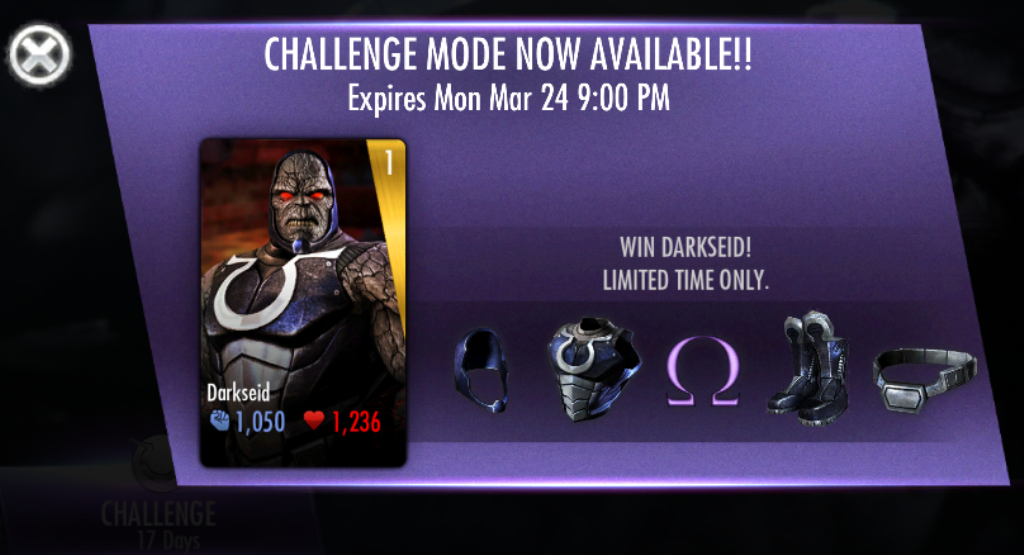 WASDuk does not argue that console players have been tossed to the side of the road, as the mobile and console versions of the game overlap, nor that hackers of any kind of are a hindrance. Today, one of the hoi polloi sent WASDuk's Chris Patton the following message:
"I am 90% sure that there is supposed to be an Arkham Asylum pack for the iOS/Android in the near future. I know this [because of inside information] from NetherRealms studios. [A person] was saying an Arkham Asylum pack and the Multiplayer [option would be] coming in future updates. I am not sure which 3 characters are in it but I will look into it. This is 100% credible and I will keep you updated."
As a result, this announcement has not yet been confirmed. It is, for now, a rumor. Therefore, the rumor's origin will have his or her name kept anonymous until more information arises. For now, we'll simply call him or her The Question, because WASDuk does not want to get his or her source into any kind of hot-water. Now, let's explore why this rumor may or may not be credible.
Argument 1: Where is Gold Nightwing and Catwoman and Green Arrow?
Once Darkseid's Empower Minions ability raised Bronze card-fighters' health and damage by 300%, message boards filled up with claims that Bronze Nightwing and Bronze Deathstroke had become gods. Honestly, they haven't. Darkseid raises them to a high Silver-level.
Nonetheless, players were posting frequently about the popularity of Nightwing. Furthermore, Arkham Asylum regulars like Catwoman do not, like Nightwing and Green Arrow, have a Gold version yet. Have we mentioned that Batman: Arkham Origins features Green Arrow's Queen Industries? Could they be coming in a new pack? Concept artist Antonio Hordista made the following rendition of an Arkham Origins skin for Catwoman to let us dream.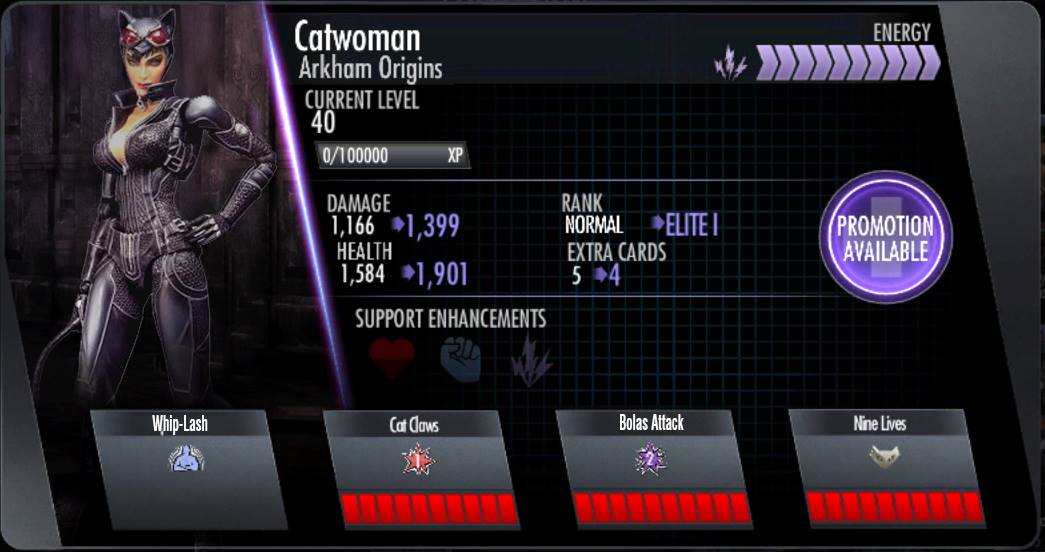 Unfortunately, this pack of characters would be a reach, as the original email referred to Batman: Arkham Asylum and Green Arrow is not referenced in that game, while Catwoman and Jason Todd's Robin are only mentioned in character biographies and conversation, respectively.
Argument 2: Do You Want Robin or Nightwing or Villains?
The next DCAU (DC Animated Universe) feature is Son of Batman. This straight-to-DVD release will feature Damian Wayne as Robin and not the Injustice support card, Tim Drake as Robin in the film. Talia al Ghul, Ra's Al Ghul, and Deathstroke will fill out the rest of the cast of main characters. Robin is also an online multiplayer character in the Batman: Arkham Origins game. As a result, when multiplayer becomes available on the mobile Injustice, then shouldn't Robin, in any form, and perhaps the most well-known sidekick of all time, be there to celebrate its launch as well?
This may be a phenomenal way to build on the fact that DC/NetherRealms does make support cards into playable characters, as they did with Darkseid. Again, Tim Drake as Robin, Talia al Ghul and Ra's Al Ghul are all currently support cards in the iOS/Android version of the game.

Players would most likely forgive the oversight of these characters not being main characters in Batman: Arkham Asylum and they would be overjoyed to see Tim Drake's Robin as a playable character. We mention the latter characters because this rumor will obviously create a ton of speculation about which Bat-family regulars will arise. Again, these fighters do not play prominent roles in the Asylum game, though they may be available at a later date when a theme fits them.
Argument 3: Okay, So Who is In Both Injustice and Asylum?
Batgirl in her Oracle skin would be a hard sell. She is wheel-chair bound, but it would be an amazing character if she had an equally fantastic passive that benefited every team, much like the Killing Joke version of the Joker does. In short, the Joker's Joke's On You ability gives full power to all of his team once he is knocked out. If Oracle were to be knocked out, then she could refill every member's health. If that seems too far-fetched, then there is always Sensei Dragoncat, who trained Barbara Gordon (aka Oracle, Batgirl). But, c'mon, don't you want to see a bionic wheel-chair?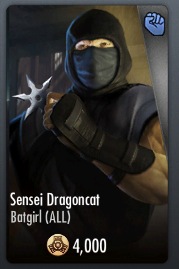 A much more likely transition would be Poison Ivy. She is easily one of the most popular Bat-villains out there. She is currently only a support card, but Antonio Hordista has made a wonderful concept piece about her.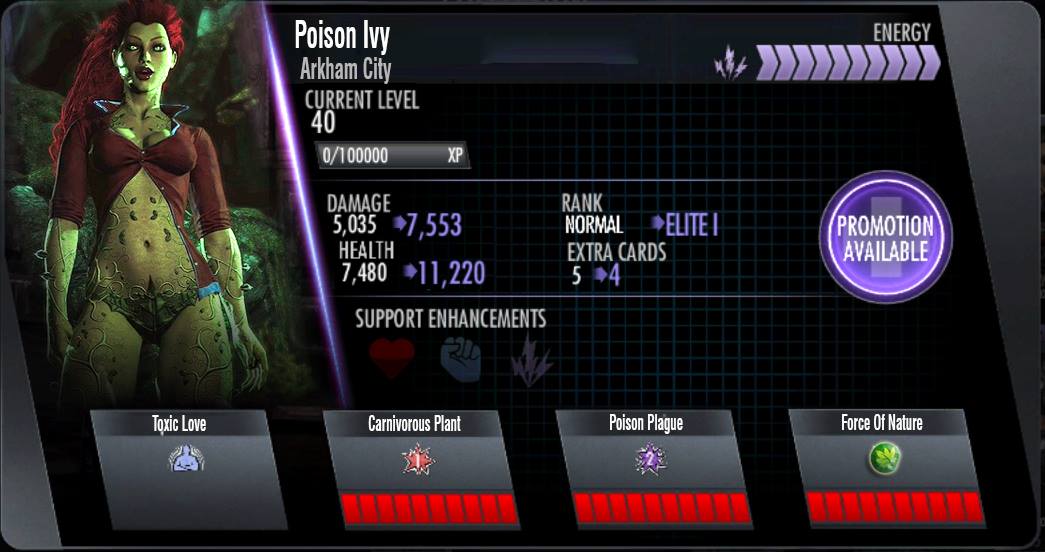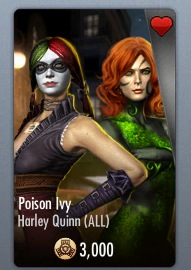 Not only does Poison Ivy feature heavily in Batman: Arkham Asylum but she would also be the most dynamic fighter option. Her plant attacks and poisoning features could make her a welcome and unique fighter to the game.
In addition to Poison Ivy, The Riddler is also a main villain found inside Batman: Arkham Asylum. Players are usually quick to dismiss him, as he does not have any superpowers. Remember that other popular characters like Batman, Batgirl, Nightwing, Catwoman, and Green Arrow do not have powers either. They rely on technology and smarts, much like The Riddler does.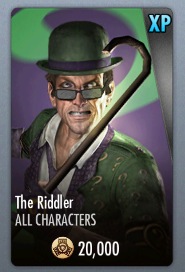 A pack featuring Poison Ivy and The Riddler would be the best, most logical cards for an Asylum pack, as The Riddler would most likely receive a bizarre passive ability. Common characteristics of The Riddler are that he won't lie and that he will leave a clue to each of his crimes. WASDuk feels a passive that allows The Riddler's heavy attacks to cause either a Dampening Field or a Power Surge or Radiation randomly would make him a game-changer. Finally, here is a list of characters from the iOS/Android Injustice: Gods Among Us with a probability attached to them becoming a member of the Asylum pack.
1) Poison Ivy: Most likely to join, as her popularity and availability as a support-card make her an easy skin to meld with J'onn and other ranged fighters.
2) The Riddler: He, like Poison Ivy, appears in both Arkham Asylum and Injustice. His "question-mark cane" would be an easy skin for DC/NetherRealm's to graft over the Joker, Scorpion or even Deathstroke. Why not combine all 3?
3) Bane / Catwoman: Let's face it, each skin of Bane has been lame. His passives do not benefit him or his team. A new skin for him would be the easiest transfer, but would fans want him? It all depends on his stats and passive. On the other hand, Catwoman yields some terrific special attacks, but her having some of the lowest stats in the game doesn't help. As a result, Catwoman, like Bane, would be an easy skin for DC/NeatherRealms to create.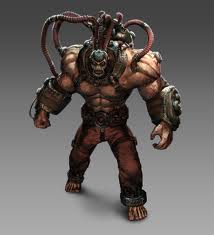 4) Oracle/Tim Drake as Robin/The Ghul's: Her wheel-chair could become transformable, but DC/NetherRealms does not seem in too much of a hurry to give us a schlocky, weird character. You'll notice that we also don't have Booster Gold or Plastic Man. If you think about it though, all three of those would add hilarity to the game. Thus, inmates like Bane, Ivy, and Riddler remain more of a possibility.
In addition, as much as we would like to see The Ghul's and Robin, they do not feature in the Asylum game. The only way we would see these characters would be if the theme of the pack were simply changed to Arkham, and not Arkham Asylum.
5) James Gordon / Alfred: Yes, these two are both support cards and feature in Batman: Arkham Asylum. They are common men though, and including them would raise some huge questions. "Where is Lois Lane and Jimmy Olsen?" would be one that we never want to consider.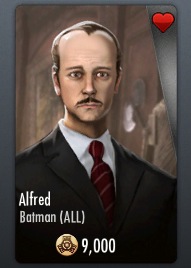 6) Sensei Dragoncat / The Birds of Prey: They are support cards, but are not mentioned in the Asylum game. Black Canary remains one of the most overlooked characters for the Injustice roster though. How did we get Scorpion before her? Geez.
7) Lor-Zod as Nightwing: A Kryptonian Nightwing? Yes, please! It's too bad that he's too obscure to put into a pack (tears fall). Maybe we'll get a Zod's Family or a Phantom Zone pack one day.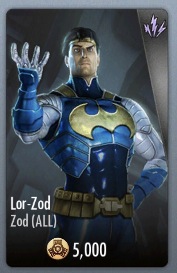 The world's best Injustice players, like Samuel Jeyakumar, are already addressing the rumor on the Facebook group Injustice: Gods Among Us : iOS/android: Elite V: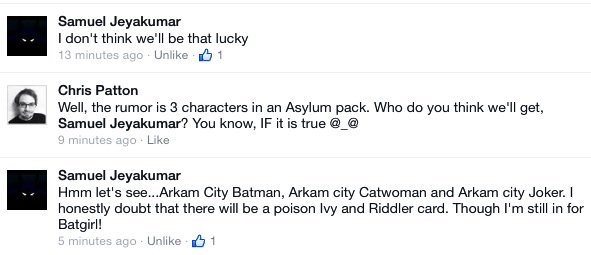 What do you think? Let us know in the comments below!
 Chris Patton provides unparalleled coverage of iOS/Android Injustice: Gods Among Us. To read more articles about Injustice strategies, such as counting down who the best card-fighters in the game are, click here. Have a tip? Email him at wasduk@mail.com, leave a message below, or troll him on Facebook.