Read last Tuesday's Trinity here.
WASDuk brings you a large amount of coverage for your favorite DC/NetherRealms game. The primary reason is that the team strategies never stop evolving alongside new Challenge Stages each month and, also, the huge volume of fans that have made Injustice: Gods Among Us one of the greatest games in recent memory deserve a voice. Thus, every Tuesday WASDuk's Chris Patton will bring you 3, or a trinity composed of new or revolutionary tidbits of information about the superior iOS/Android version of Injustice.
3) Character News: Elseworlds Flash & The Red Son Pack
WASDuk raised some eyebrows when it posted here that Elseworlds Flash gets a Speed Force bonus whenever he uses his first level special attack (caps at 45%). Hundreds of emails poured in to tell us that we need to check our information, so we went right to work and captured the following screen.
As you can see, Elseworlds Flash gains 15% to his attack speed when he uses Lightning Kick. However, this secret bonus is also true for every Flash card. The Flash symbol appears below his health bar when he uses the attack, and it can add an advantage to his speedy strikes. If only there were some way to raise his stats. Oh, wait. That is what Red Son cards are for!
Lots of player credit grind for an eternity and then question whether they should buy the Man of Steel or Red Son booster pack. Obviously, the Man of Steel pack has a limited time, so players should get it before it expires. However, the Red Son pack gives fighters the biggest boosts in the game. Please note that the Red Son boosts are NOT just for Red Son card-fighters. For example, if you team Regime Wonder Woman with Red Son Wonder Woman and Red Son Solomon Grundy, then Regime Wonder Woman (and the other team members) gets a 30% bonus to health and a 30% bonus to power generation. Therefore, if players want the best team possible for either monster cards like Doomsday or for weaker cards like Elseworlds Flash, then be sure you add the right Red Sons to your team.
2) Team News: Batgirl's Nightmare & Batman's Blackest Night
Players are loudly applauding how challenging Batgirl's redo of a Challenge Stage has become. Yet, others are pulling their hair out. The computer already knows the ladder Red Son secret, and there is one team in particular that some players can't get past. However, our resident Yu-Gi-Oh genius, John Brizuela has formed an Injustice team to save the day. If players were unable to receive the Red Son Deathstroke card, then fret no more. John posted a fantastic solution on the Injustice Gods Among Us Hack Free page: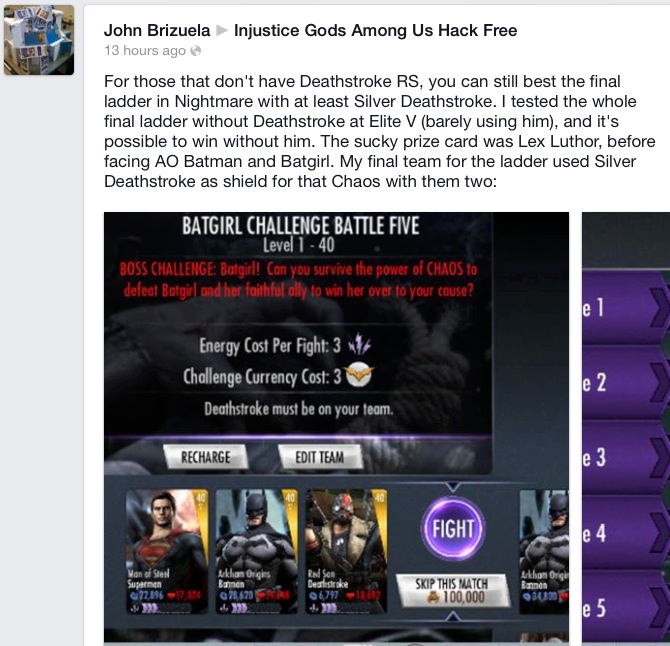 The second team to consider using comes in response to WASDuk's placement of Blackest Night Batman at number 19 in the Gold card rankings. Blackest Night Batman is something of a mystery. When one uses him after midnight, then his passive ability gives him a 20% bonus to damage and health. Use him during the day and he gets no bonus. You know, like a Two-Face coin scenario (HINT! DC/NetherRealms! HINT!).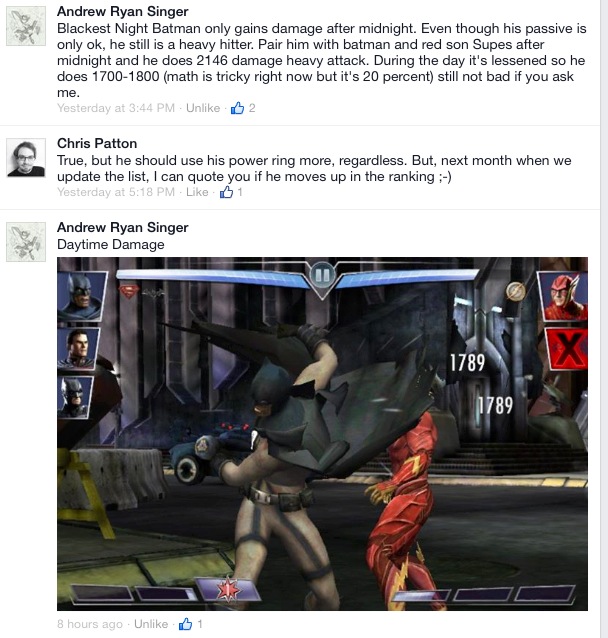 Although Blackest night Batman offers zero bonuses to teams during the day, the above screen shows him throwing heavy hits for 1,789 damage. Andreww Ryan Singer sent in reserve units of Batman (25% to damage) and Red Son Superman (25% to damage). The 50% bonus to damage is nice, and such a damage boost is brilliant aid for any potential tank card, such as Regime Superman, Martian Manhunter, or even Red Son Deathstroke, whose Red Son bonus would kick the damage up to 75%.
 1) Don't WASD Your Time! It May Be 600 Wonder Woman!
The current, unverified rumors are pointing at 600 Wonder Woman being the next Challenge Stage character for March. Our good friends at HenxcinJGaming have posted a video that reviews her. WASDuk has always been about supporting the independent awesomeness of smaller gaming groups. We also want to give a shout out to HenxcinJGaming because a bad seed has been stealing their videos and claiming them as their own. Pfffff! As if anybody would support those guys!
Nonetheless, check out the bad a$$ video from HenxcinJGaming by clicking on the link below (give them hits and show love!) in order to see what may be coming in about 5-7 days, and be sure to subscribe to their YouTube channel!
http://www.youtube.com/watch?v=TtAEXBXi294&list=UU2VRhiUsxv8OZ72OCgdoDSg