There are 5 battles to complete in each Challenge Stage offered by the iOS/Android Injustice: Gods Among Us. Beginning with the Challenge Stage that rewarded players with the Elseworld version of Flash (it's coming Android users, be patient), the battle stages were able to be played again with increasing difficulty levels. However, the second or third round of every Challenge usually has one of the following requirements: only Silver or Bronze characters are allowed on your team, or a Silver card-fighter, such as Cyborg, who has no Gold version, must be on your team.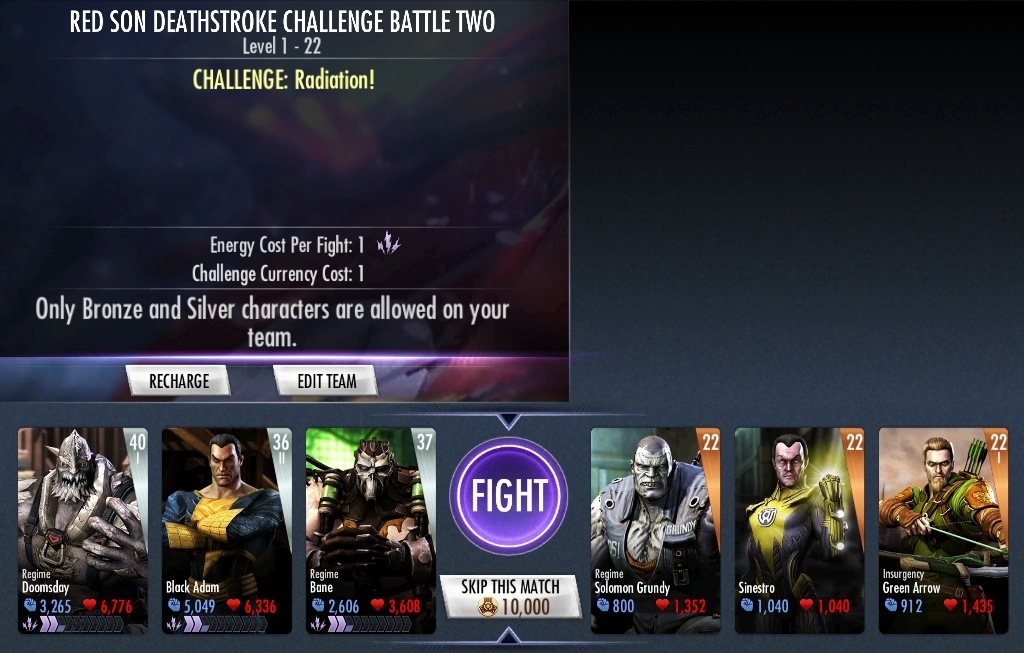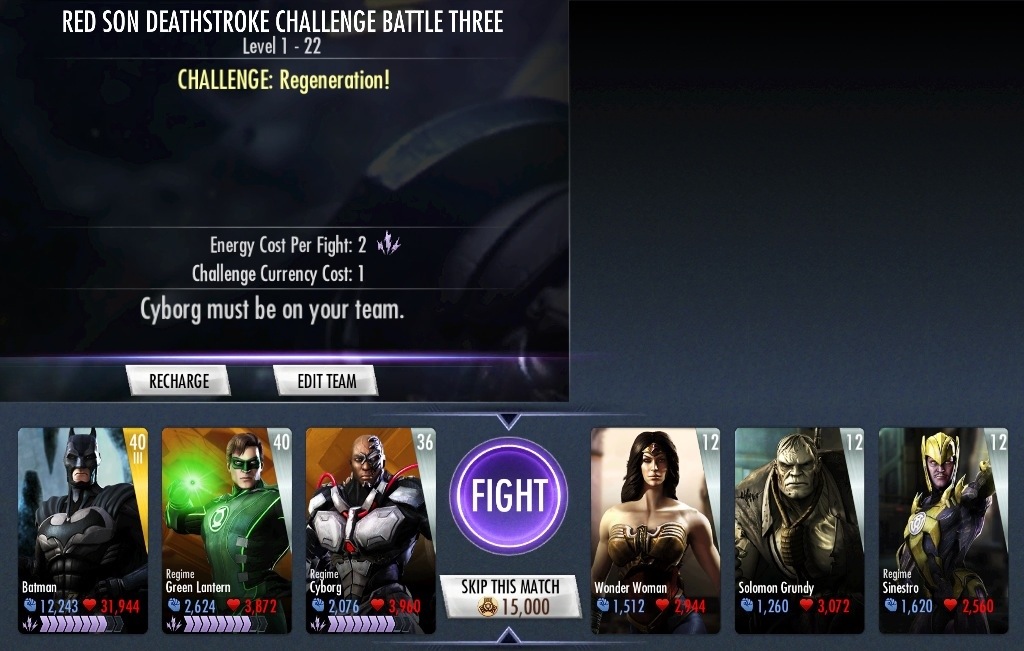 When a single Silver card-fighter is required, players have an easier time completing the battles, because the team can include one or two Gold characters, as pictured above with Batman (Red Son Wonder Woman could be put in instead of Silver Green Lantern to add more of a punch, and to retain the power generation boost). However, when only Silver card-fighters are required, then the difficulty level of Nightmare battles for the Challenge Stages can become exponentially more difficult. The computer often adds higher level Gold cards to their teams to make those who play by the rules pull their hair out through their masks. As a result, WASDuk turned its ear towards the best iOS/Android players in the universe, who populate the Facebook group Injustice iOS: Alliance Credits Hub, in order to get the inside scoop on who their favorite Silver level teams are and why:

Tip 1: Use Power Generation & Health Boosters

As Nathan mentions in his post, Regime Green Lantern is invaluable as a support card because his passive Power Battery adds 25% power generation to the whole team. His common enemy, who also likes green power suits, Lex Luthor, uses Force Field to add 25% health to his teams. These combined boosts make the Regime version of Doomsday quite a tank. If Doomsday knocks out an opponent, then his next special attack, no matter the level, becomes unblockable. As a result, if players find Challenge Stages that require Silver card-fighters difficult, then Nathan's team will give you strong boosters to tackle seemingly superior fighters. With Green Lantern's power generation advantage, Doomsday and his allies will be able to unleash several unblockable moves in each match.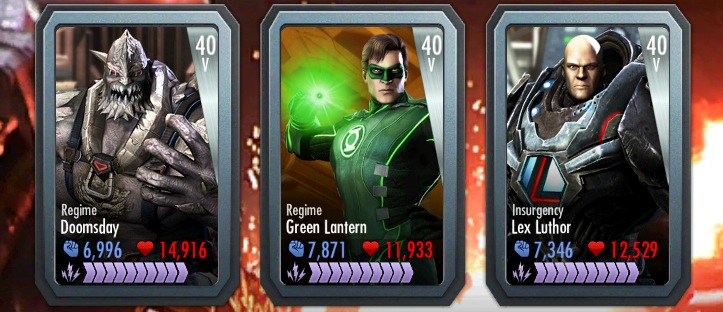 In fact, the Regime version of Green Lantern is so effective that other members offered fantastic alternate teams to use him with.


Tip 2: The Freeze Arrow Does NOT Thaw
Green Arrow fans currently lament the fact that a Gold version is not available. However, when tough teams appear unbeatable, filling out power bars are essential and Green Arrow can buy you the time to do this. A little known trick is that Green Arrow's first special attack does not thaw. If players can successfully strike with Freeze Arrow, then the foe will remain on ice inevitably. Your killer instinct will tempt you to strike the foe, which will unfreeze him or her, but simply relax as there is no time limit. Then, as you wait, your team member's power bars will fill, they can be tagged in, and they can unleash their level 3 unblockable attacks. This is a huge benefit to the seemingly weaker Silver teams, especially if a Regime Superman, Lobo, or Regime Wonder Woman is in play against you. This advice was posted to the thread by Ed Torres, who also cited that Cyborg gets additional power generation when he is tagged out.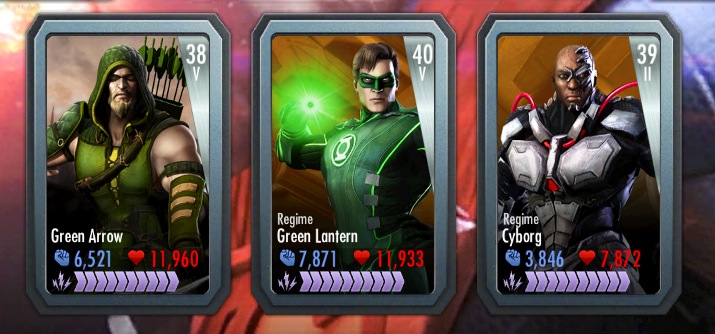 Tip 3: Know Your Damage Boosters
Unlike the support and booster cards mentioned so far, there are also damage boosters to consider. The Insurgency Harley Quinn card-fighter uses her Psychotic Sidekick ability to add 10% damage to teams. And, never forget about the Amazon Princess, Diana whose passive Olympian Strength adds 50% damage for each blocked strike to her next special attack (caps at 150% damage). Either of these ladies can be substituted for other members to forge a stronger team backbone. Therefore, do not be afraid to experiment with line-ups until one is found that compliments your style. For instance, a team posted by Andrew Ryan Singer to the thread combines Silver Wonder Woman, Insurgency Lex Luthor, and Insurgency Harley Quinn. This legion deals incredible amounts of damage, yet each of the team's members will be ready to take some inevitable melee strikes thanks to Luthor's health boost.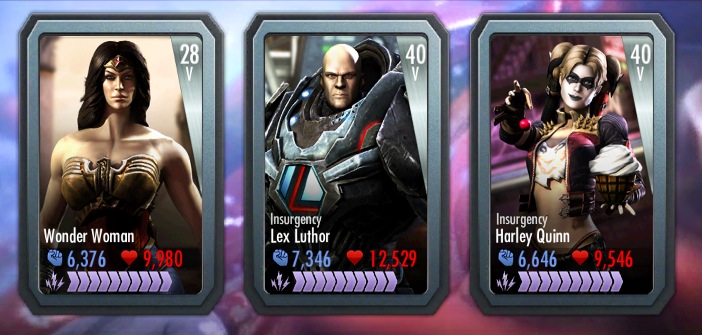 The most important factor to remember is which cards make teams better. Teams with multiple boosters will be able to outlast and grind out victories against those without team benefits. Certain Silver cards like Bane do not offer team benefits, so placing him alongside Doomsday is fruitless. However, Bane can be quite powerful when supported by the Silver versions of Harley Quinn (damage), Green Lantern (power generation), Flash (offers 15% speed boost), or Lex Luthor (health). Ed Torres, who like our other contributors on this thread's topic, is a fantastic Injustice player who offered the following summary: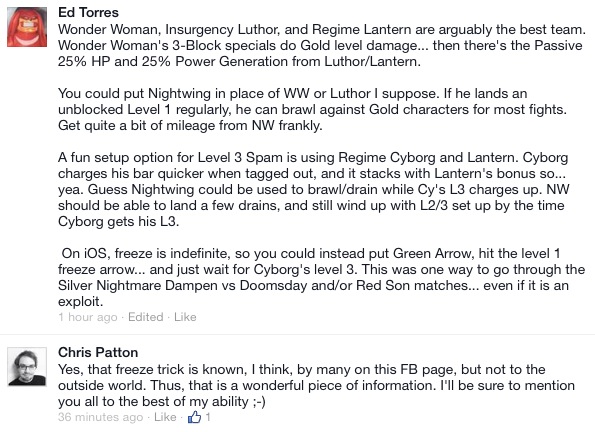 Chris Patton provides unparalleled coverage of iOS/Android Injustice: Gods Among Us. To read more articles about Injustice strategies, such as counting down who the best card-fighters in the game are, click here. Have a tip? Email him at wasduk@mail.com, leave a message below, or troll him on Facebook.