There are 5 battles to complete in each Challenge Stage offered by the iOS/Android Injustice: Gods Among Us. Beginning with the Challenge Stage that rewarded players with the Elseworld version of Flash (it's coming Android users, be patient), the battle stages were able to be played again with increasing difficulty levels. However, the first round of every Challenge has the same requirement: only Bronze characters are allowed on your team.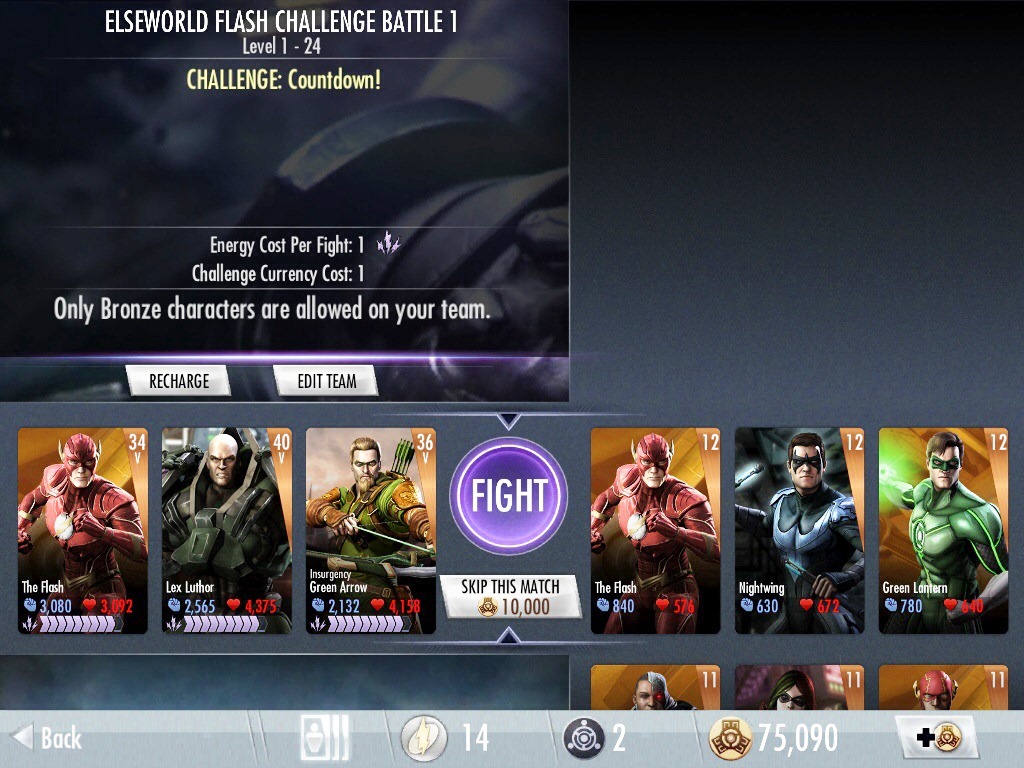 As the Bronze card-fighters are the lowest level characters in the game, this stage can be ridiculously easy the first time around but, then, nearly impossible to complete during the final Nightmare play through. The primary reason is that players often ignore leveling Bronze cards and their terrible stats and, also, because the game adds Silver level fighters to battle gamer's Bronze cards. Thus, how does one build an effective Bronze team? Which characters are useless, and which characters are invaluable?
Tip 1: Use Characters that Increase Your Damage
The Bronze Harley Quinn only makes the Silver and Gold versions of the Joker better by adding 25% damage via her Crazy Love ability. However, she does not benefit any Bronze character or team, and she and Regime Catwoman have the lowest damage and health stats in the game. If they are on your team, then your team will not do very well. Most high-level Silver card-fighters will take them out in one or two combo strikes.
In contrast, Lex Luthor is a godsend. Every Bronze team must have him on it, because his Advanced Power Source adds 15% damage to all melee attacks. The only other Bronze character to come close to this advantage is Insurgency Green Arrow, but his Tactics skill only adds a measly 5% damage.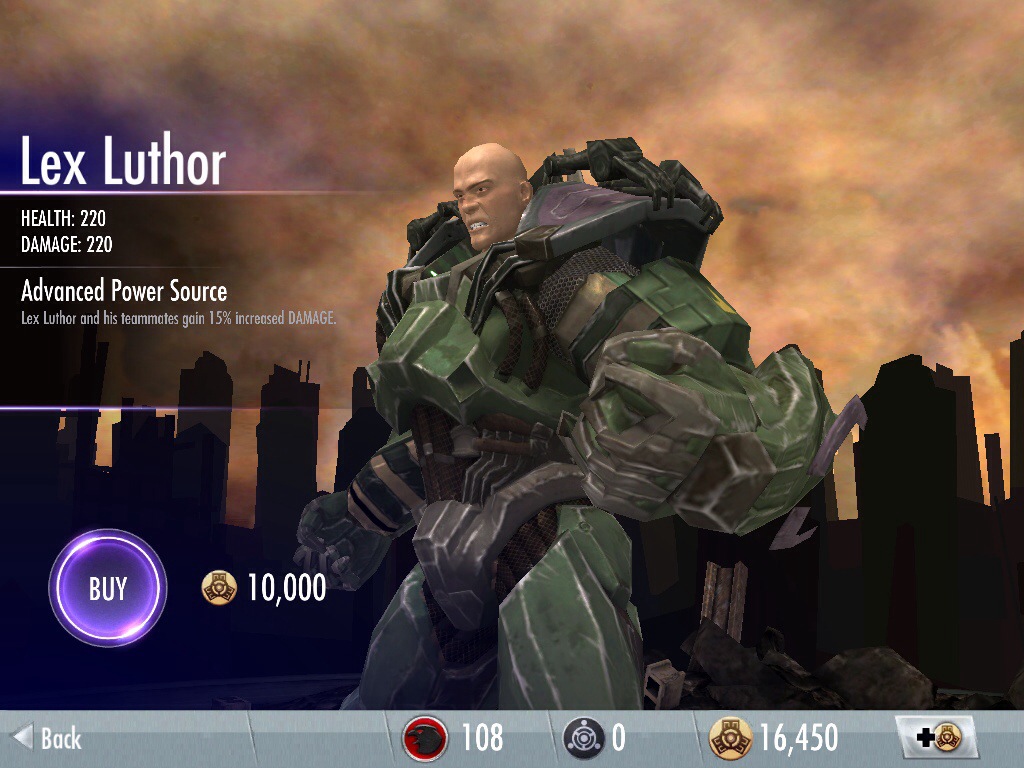 Tip 2: Bronze Characters have Stand Alone Complexes
Insurgency Deathstroke has the highest stats of any Bronze character, but his special ability makes him a liability. If he knocks out somebody, then he gets back 15% of his power, but not his health. Lots of players love him, but feel obligated to leave him in a match for far too long. As the computer upgrades its fighters and adds Silver level brawlers, the lower-level Bronze card-fighters must tag in and out frequently so that they can reach full power and unleash their unblockable attacks.
The solution to this problem is to either increase your teams overall health, or to use heroes and villains that can take a beating. Guess what? Health boosts are not really an option. Green Lantern adds a 5% bonus, which is useless.
Enter, Nightwing. The former Boy-Wonder has a special ability called Hand-to-Hand Combat. Nightwing takes 25% less damage from basic attacks and he can, therefore, absorb more kicks and punches. Every time a foe lands a blow, power generation is added. Therefore, Nightwing can deal out an unblockable attack more quickly than his fellow fighters, but he can also use his level 1 Ground Sparks attack to drain power from those that stand in his way. Dick Grayson is a great all around ally to have. His versatility, boosted by Luthor's extra damage, is a fearsome duo.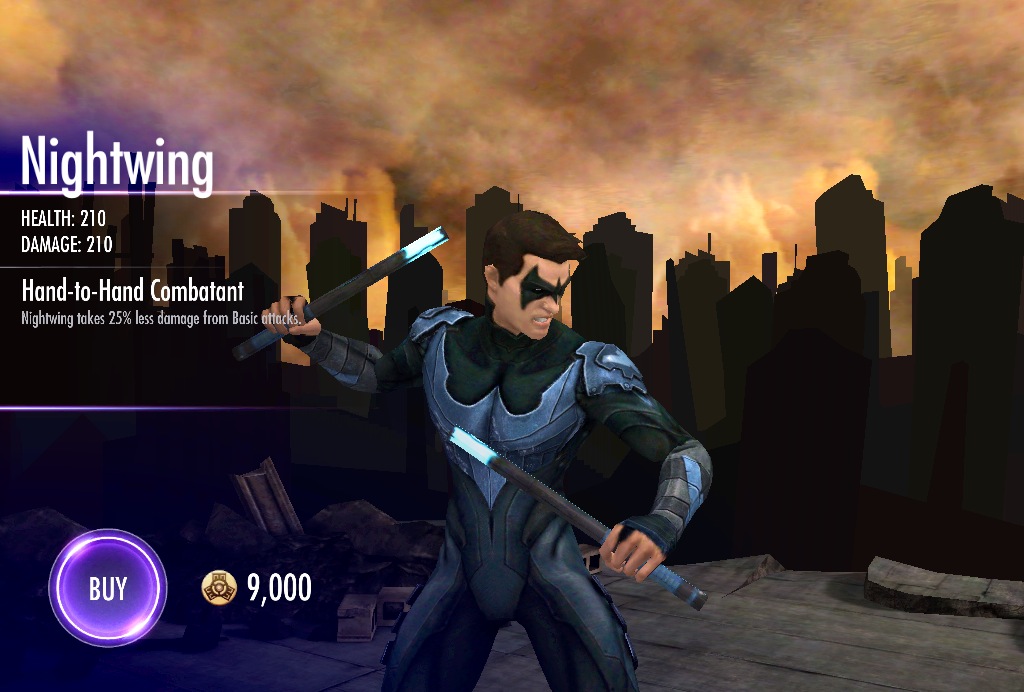 Tip 3: Grind Out the Nightmares
Hi, Silver Wonder Woman. We hate you because every time you block an attack a 50% bonus to the damage you deal on your next special attack is added. Yes, the damage caps at 150%, but one simple shield throw from you can annihilate nearly any Bronze character. What's that, Jack? The computer threw Regime Doomsday on a team with a Bronze Lex Luthor. Darkseid himself couldn't stand up to that. Do we pay to skip the match?
A viable fix is to add Regime Solomon Grundy. Like Nightwing, the most popular DC zombie can take loads of damage and arise again. Born on a Monday regenerates Grundy once per match and refills 25% of his health. If hulks like Diana or Doomsday have their power bars filled, then throw in Grundy. Even if he were to be hit with an unblockable, it wouldn't kill him. Foes will deplete their power bars, and Grundy will not be forced out. Granted, you can only do this once, but his extra life can be the difference between a win or a loss in a close match. Adding Lex's damage boost also helps with his reduced strength.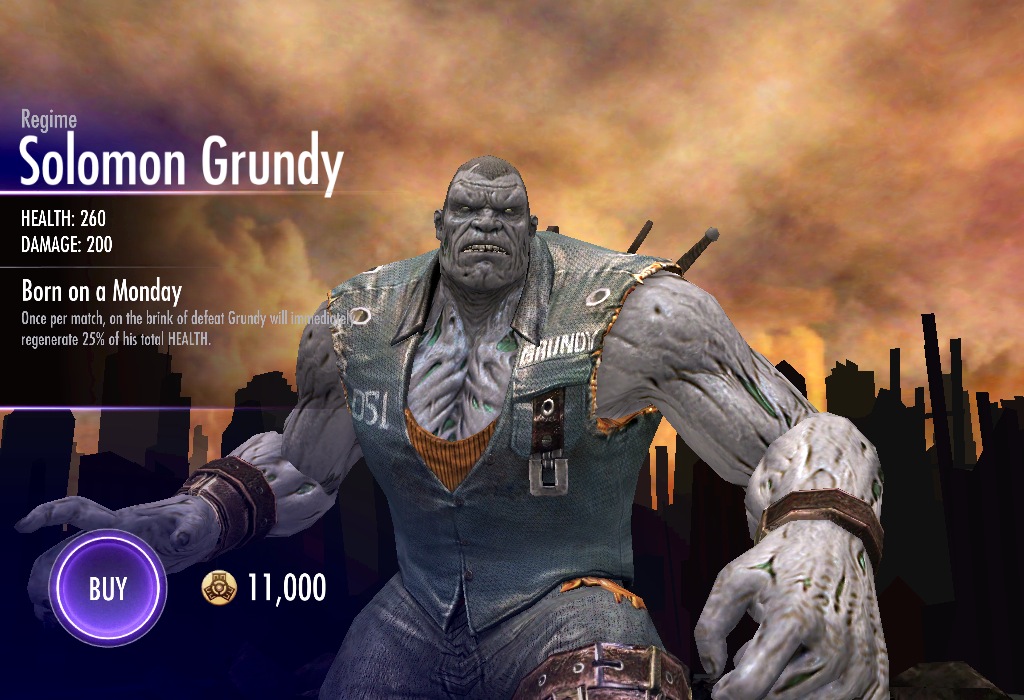 Tip 4: Have Fun & Evolve!
Bronze Green Arrow, Nightwing, and Lex all drain power from enemies with their level 1 special attacks. Flash gets a 15% speed bonus to attacks for every level 1 special he uses (it maxes at 3 uses, or at 45%). Sinestro gets 15% power generation every time an opponent tags out against him (no limit). These fighters can all be substituted for Grundy or Nightwing, depending on who the team you are battling is composed of. Furthermore, Andrew Ryan Singer from the Facebook group iOS Injustice Players points out that a great team can also contain the New 52 version of the Flash (only available via Bronze Booster Packs or through the console) because he adds 5% power generation. Cyborg, the Green Lanterns, Harley Quinn and Catwoman have no real use or benefit to your Bronze teams. Plan carefully, my Legion of Doomers and Justice Leagueians!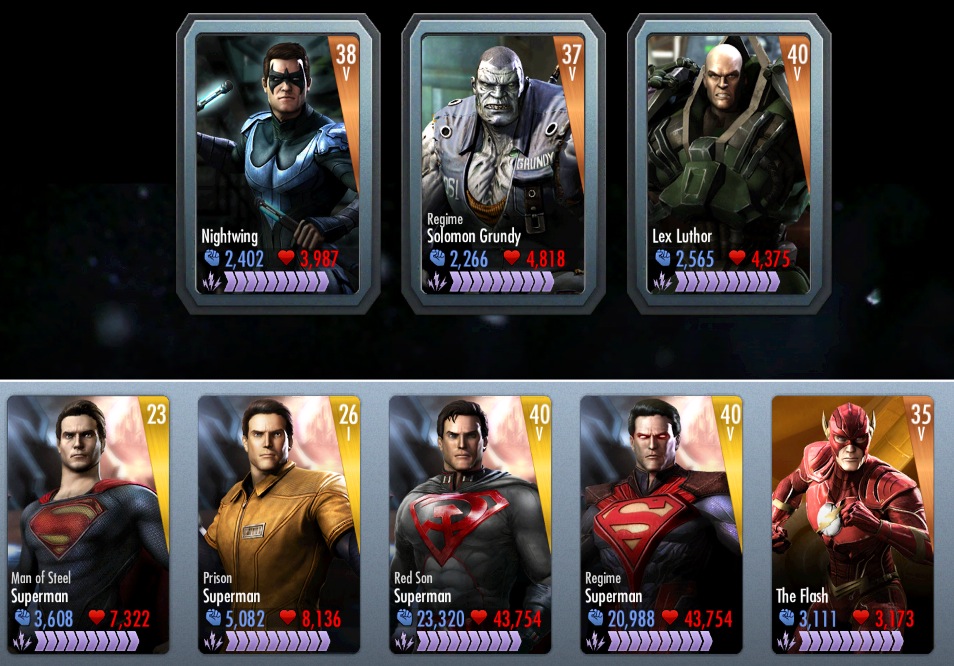 Chris Patton provides unparalleled coverage of iOS/Android Injustice: Gods Among Us. To read more articles about Injustice strategies, such as counting down who the best card-fighters in the game are, click here. Have a tip? Email him at wasduk@mail.com