A buzz began when DC/NetherRealms announced a reward to celebrate both the Chinese New Year as well as the fact that iOS and Android users have fought through one billion matches in Injustice: Gods Among Us. While the figure seems daunting, dedicated fans are quick to sight how credit grinding is essential to the card-fighting style within the iOS/Andoid version of the game. Players are rewarded credits after each match he or she wins, and these credits are essential to purchasing new card-fighters, booster packs, and even for skipping matches in the popular Challenge Stages.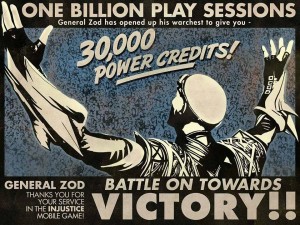 Most players received the above image of Zod when they opened their apps. If players see this advertisement, then they muse click on the image to receive the 30,000 power credits. While the amount of the credits is low, it will allow for new players to purchase 3 Bronze Booster Packs, which contain one character and either random support cards or level-up cards that enhance special attacks. Still, other players who did not receive the Zod announcement got a message from Harley Quinn.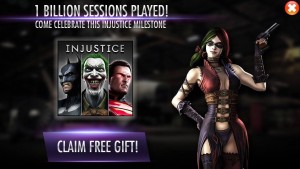 Again, players must click on the bar that reads "CLAIM FREE GIFT!" to receive the credits. If fans have not received either of these messages, then turn off your device for a short time, turn it back on, and log-in to your WBID accounts. Happy New Year!